Video content has become extremely popular in this era because it is not just entertaining but also easily accessible. Therefore, many content creators look for video editing software that can make their video content extremely professional. Well, every video content creator can't be a professional editor as well. Hence they will need a video editor that would be very simple, easy to use, and has all the ingredients for making a video attractive, engaging, and professional.
Keeping all this in view, there is Veed Video Editor that can fulfill all your editing requirements with a single click. It helps you create social media videos, marketing videos, and tutorials in an effective but simple way. Let's explore further what amazing features it has.


Overview of Veed Video Editor
Veed Video Editor is a powerful and easy-to-use web-based video editing tool. This amazing tool has almost every ingredient a video content creator may need. It allows its users to edit videos quite easily and also enables them to add transcription in just a few clicks. Moreover, the tool is perfect for those who want to create simple videos, or just want to add transcripts to their videos. Whether you are a YouTuber, teacher, student, or business professional, Veed Video Editor can help you in editing your videos.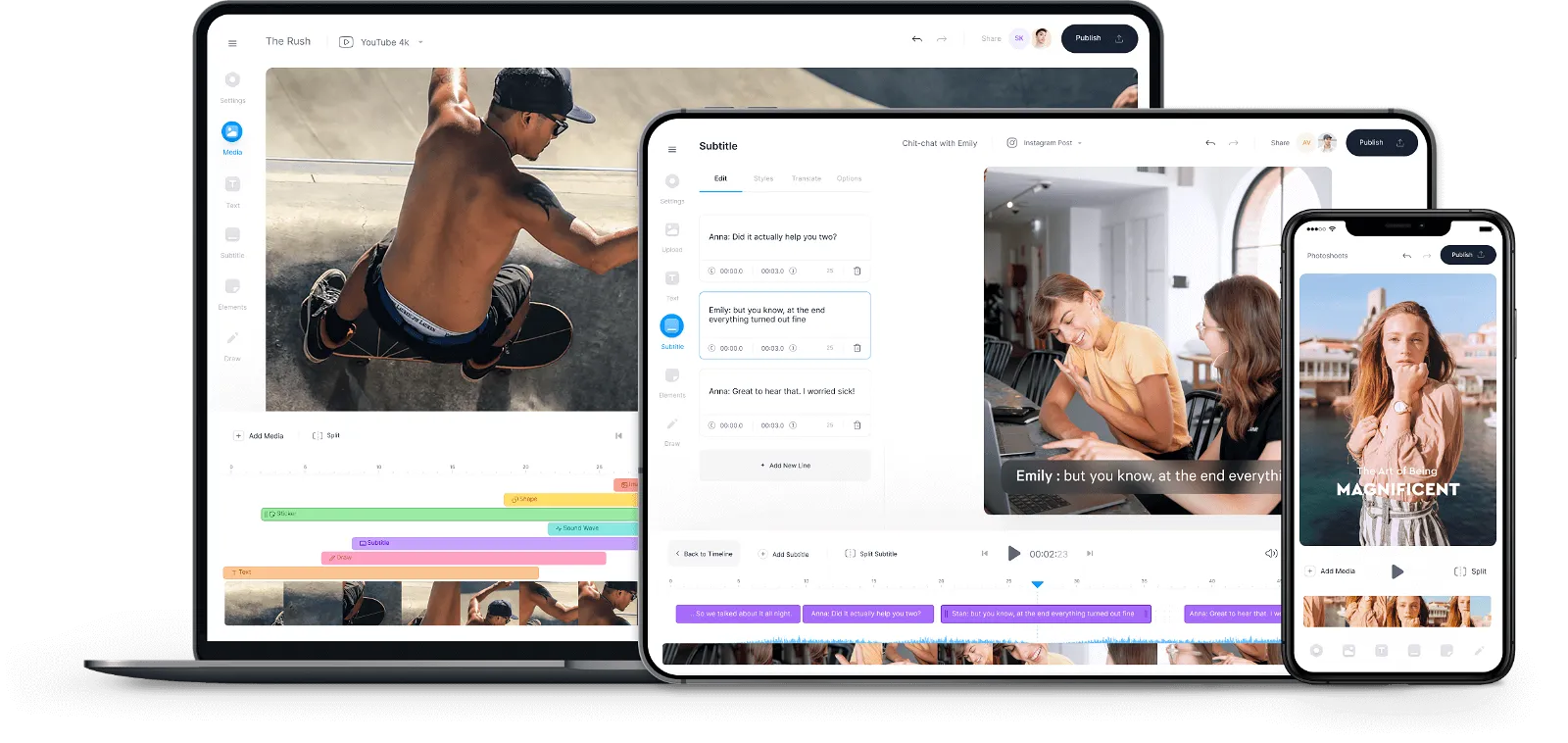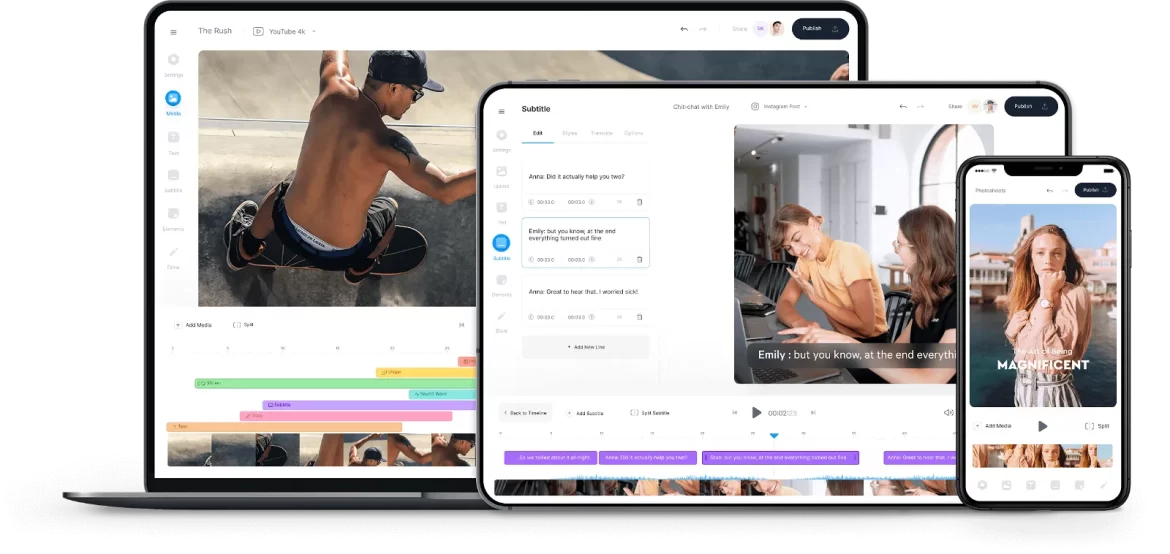 Features of Veed Video Editor
This is one of the best video editors that makes editing look so easy that a newbie can make high-quality professional videos. It has a wide range of features that allow its users to make video editing and transcribe in q quick and easy way. Also, it is a one-click video editor and people who have no experience in this field can also do effective video editing. The following are the prominent features of this amazing tool.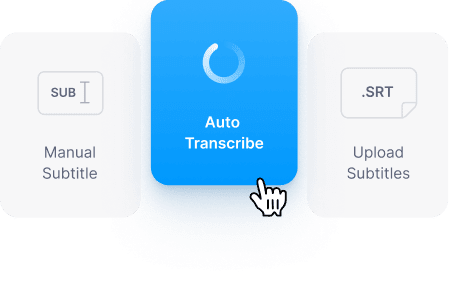 Automatic Transcription
Are you experiencing difficulty in converting your audio and video files into text? If your answer is yes then cheer up because your wait is over. A quick and easy solution to transcribe your videos is no other than Veed Video Editor. The online tool of this software uses cutting-edge technology and automatically transcribes your videos in a few minutes and too without needing any manual input. It is such a perfect tool that you can rely on it for accurate transcribing. Also, it helps you in creating subtitles or closed captions for your video.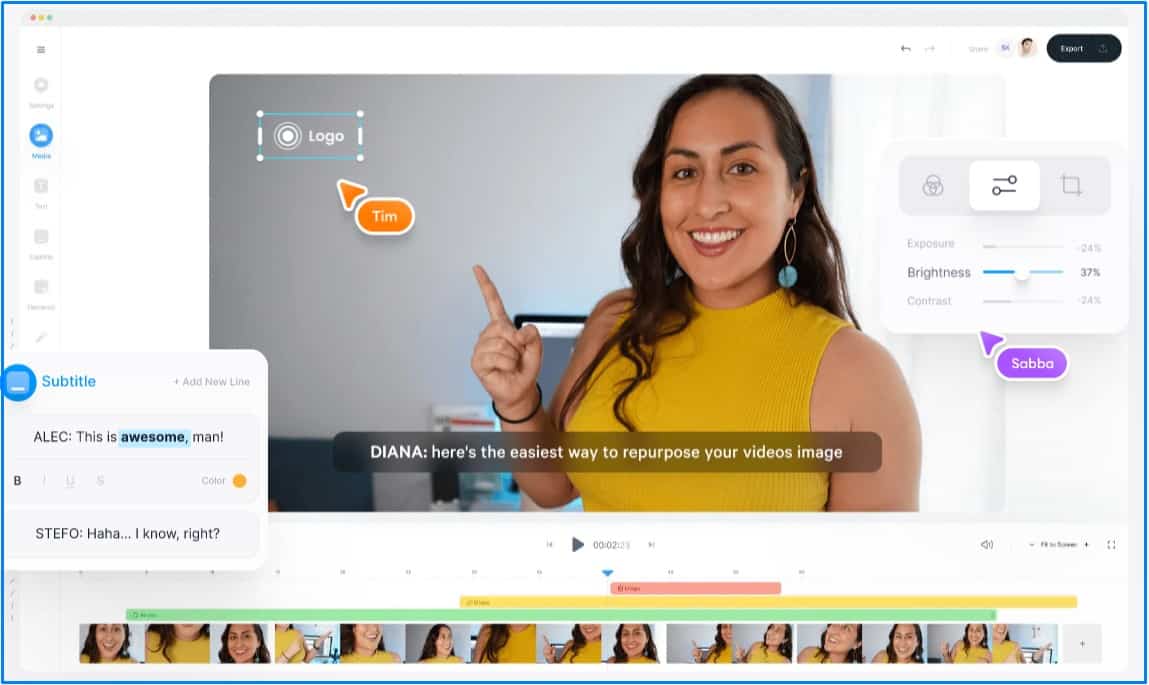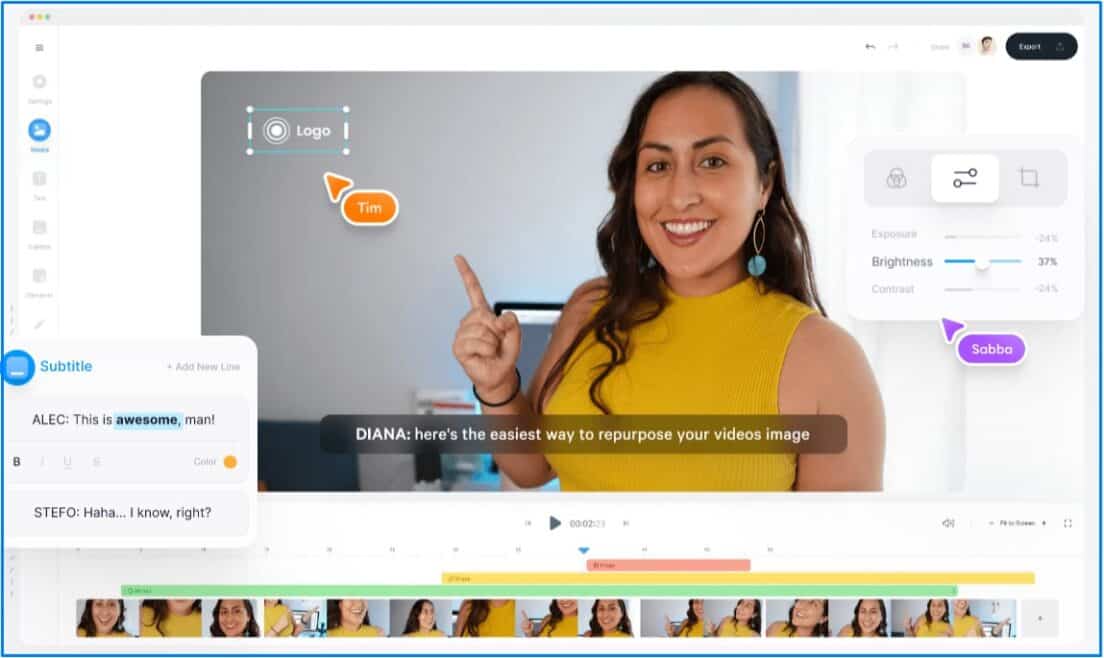 Easy Video Editing
It would not be wrong if I say that it is the simplest ever video editor so far. Because you don't need to download and install this editor and even signing up is also not required for creating your video. Whether you have prior experience with video editing or not, it is quite simple to use. Simply you need to upload your files and Veed Video Editor will do the rest for you. If you want to do transcribing, it will be done automatically, and further you can use its online editor for editing the transcript.
I would rightly say that this video editor is quick, easy, and hassle-free. You can do everything with software whether you are adding subtitles to a YouTube video, a progress bar to an Instagram Story, or cropping some footage to fit a Twitter post. Veed Video Editor works online right in your browser.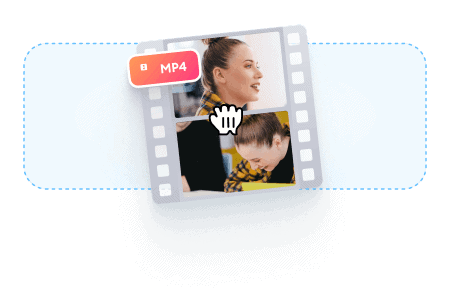 Export Options
Once your transcribed video is ready, VEED Video Editor offers you to export it in various formats. You can export transcription in popular formats like SRT, VTT, and TXT. Apart from this, you can also download the transcript as a PDF file as well. This is a great option if you want to print transcripts or keep them for future reference. Simply need to click on the Export as PDF option and it will be downloaded to your desired folder. Similarly, you can edit videos of your choice and then export them in any format you want such as MP4, MOV, WEBM, AVI, etc.
Share Options
Well, another amazing feature of Veed Video Editor is that you can share your edited videos direct from the platform staying right in your browser. This software allows you to share your videos via email or on social media. Simply you need to click on the Share button and then enter the email address or social media account with whom you want to share the video. It will be done very quickly, easily, and hassle-free.
Cloud Storage
Again a stunning feature of Veed Video Editor is the provision of service of cloud storage. This service lets you manage your videos in one place and share them with your friends without them having to download the videos. Simply you can upload your videos or save the edited videos and transcripts on the cloud storage. Also, you can share the link of any specific video and your friend can access that by that link. Moreover, it also offers to record your screen in case you are making any tutorial. Eventually, you can save on its cloud storage and then share just the link with your friends and they will watch it straight in their browser.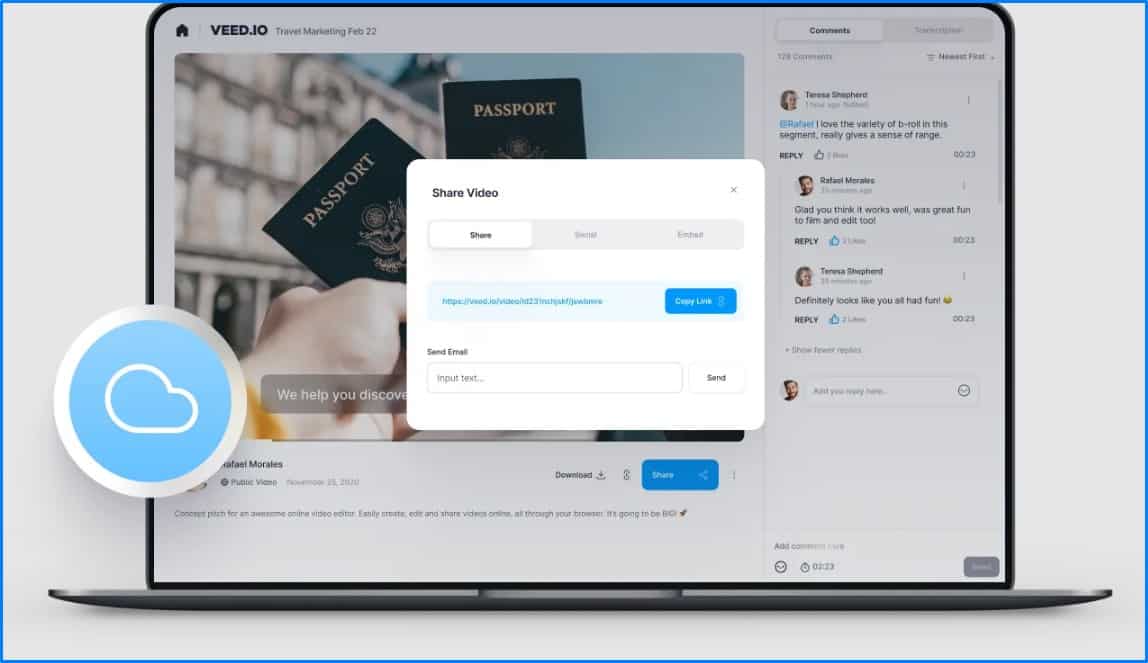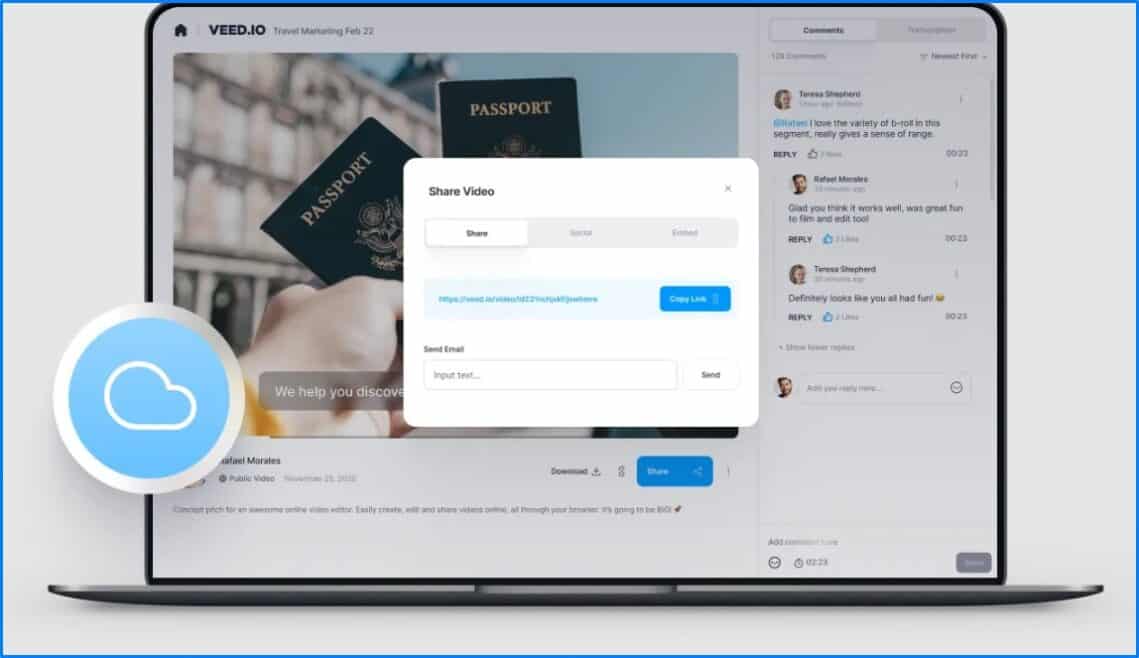 Transcription in Veed Video Editor
Video transcription is a process through which you can convert your video's audio into text. Earlier it was a very time-consuming process as it was to do manually or using software that was not so trusted and accurate. However, now technology has evolved and there are tools like Veed Video Editor which transcribe your video with 95% accuracy and that too in a few minutes.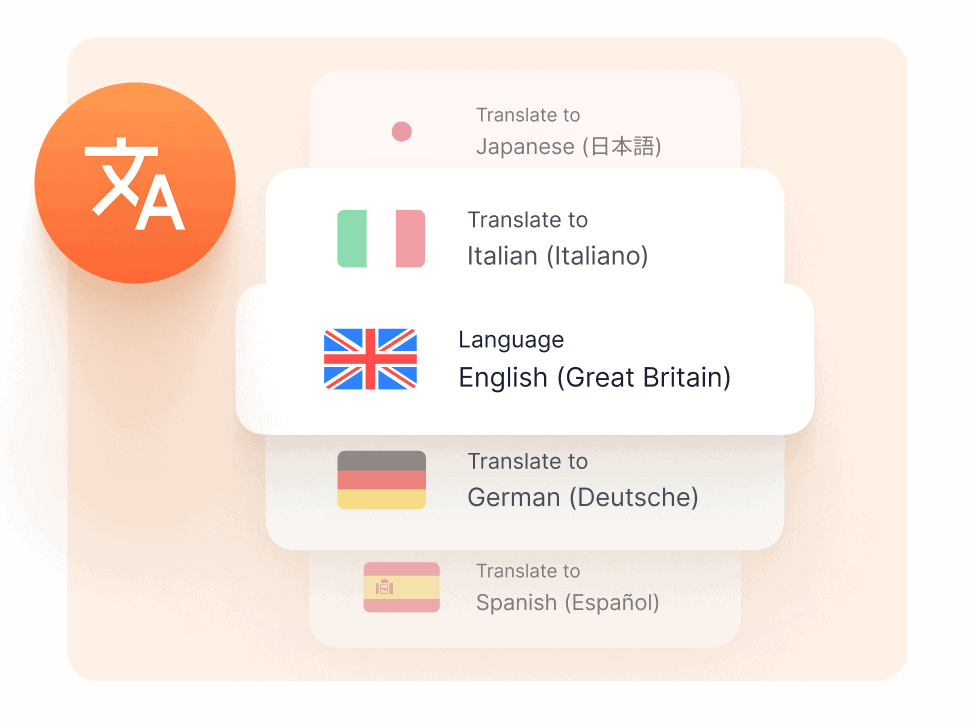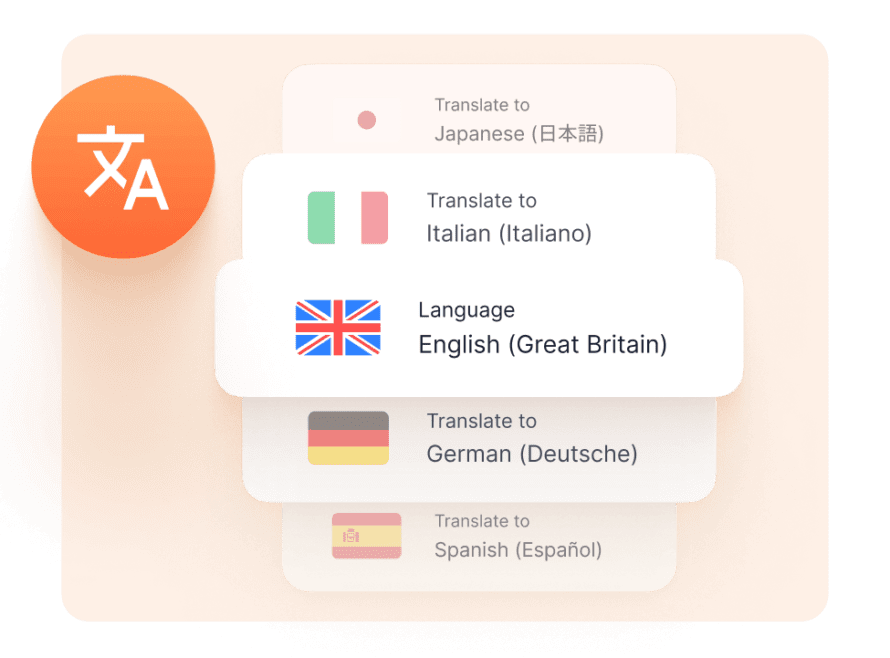 Veed video Editor's online transcription service enables you to transcribe your audio and video files to text in just one click. It is much more versatile compared to other tools that only allow you to transcribe either an audio or a video file. However, using Veed, you can do both. While the best thing is that this transcriptional tool supports all popular audio formats including MP3, WAV, and all video file types like MP4, MOV, AVI, and more. The following are the factors that make this transcriptional tool exceptional over other software.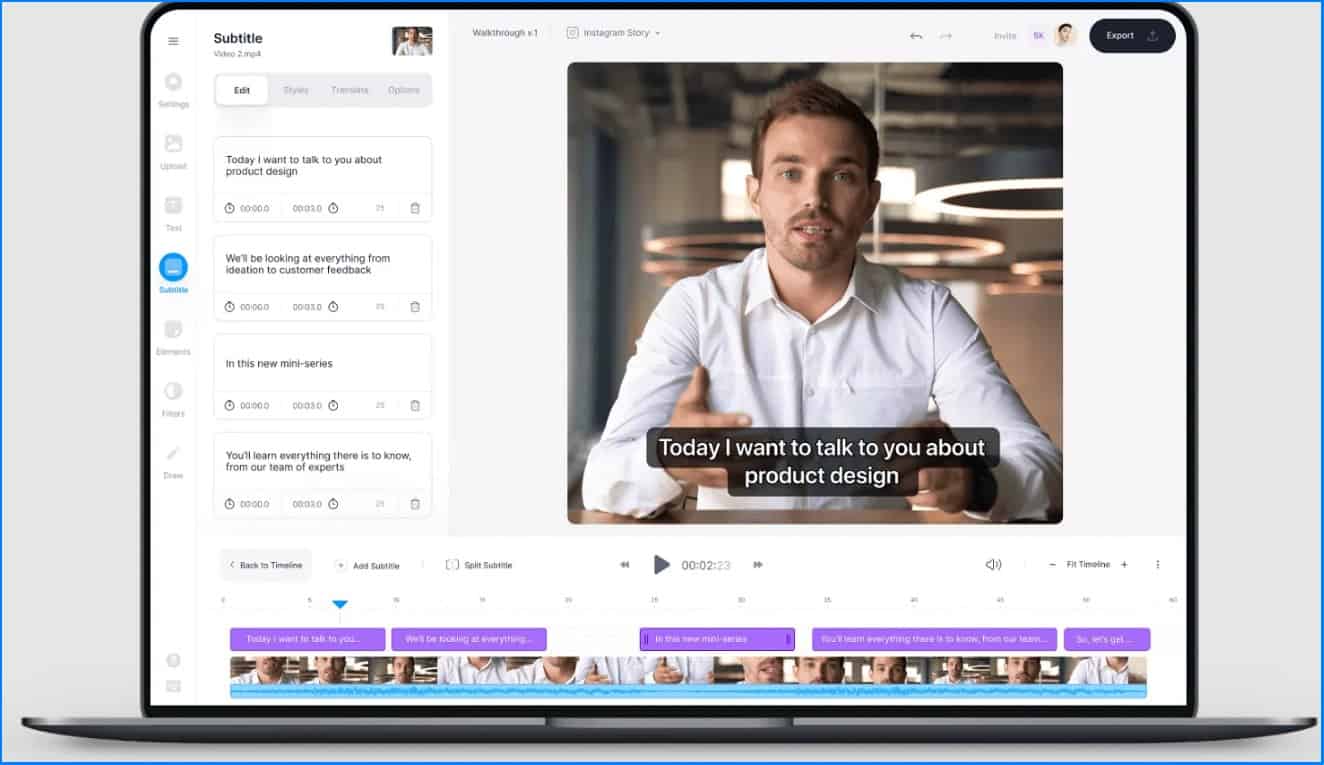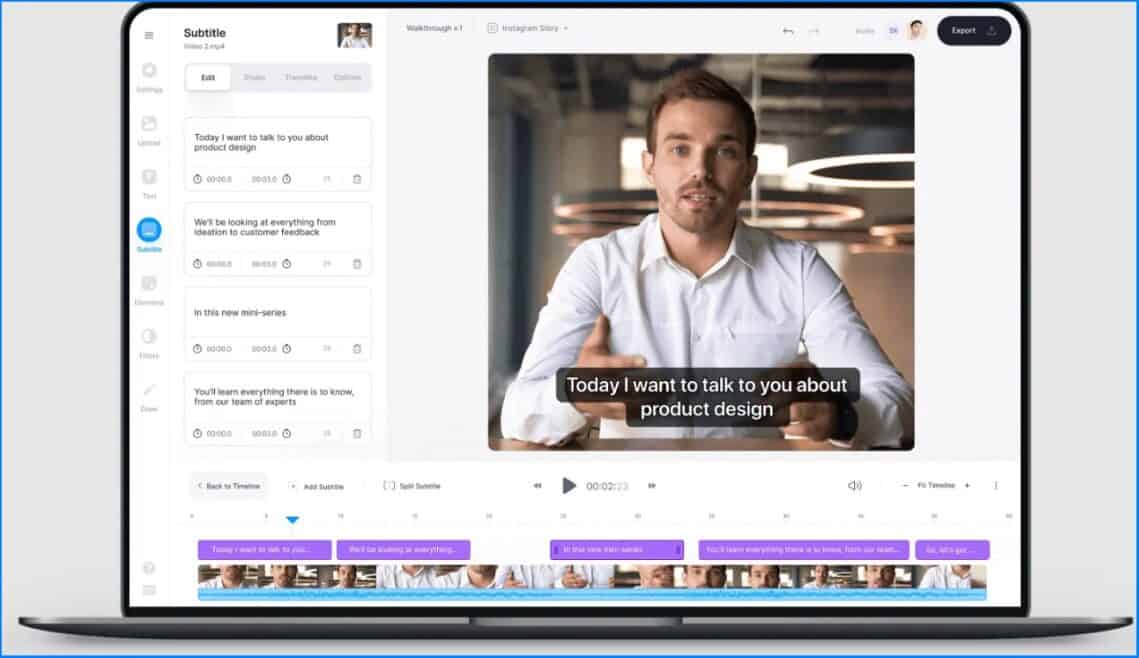 Automated transcription process: Veed Video Editor offers you a fully automatic transcription service and that too with maximum accuracy. Simply, you need to upload your file, click on the 'Auto Transcribe' button, and Veed will do the rest for you. The cutting-edge technology does the transcription in the fastest and easy way.
Preferred Transcription Format: Veed Transcriptional tool allows you to download your transcript in any of your desired formats. Whether you want to download a TXT file, a VTT, or SRT, you can do it with a few clicks.
Multilanguage Translation of Transcripts: In Veed Video Editor you have the option to translate your transcript into different languages. It supports over 100 languages and recognizes different accents, to provide more accurate translations. Once you generate subtitles after clicking the 'Auto Transcribe' button, in the same window you will need to click on the Translate button. You can select your preferred language to translate your transcripts.
Easy editing of the transcription: Before downloading the transcription, you can use the online editor tool to edit your text. Depending on how the speech or recording is spaced out through the video, Veed Video Editor will separate the transcriptions into different boxes. Just click on each box and start typing or editing the text.
Hard code subtitles option: Veed's transcriptional tool allows you to hard code subtitles in your video quite easily. After transcribing, simply you need to click on the Burn Subtitles button and eventually, your video will display the text whether the viewer activates the Subtitles option or not.
An affordable and reliable tool: It is the most affordable transcriptional tool you will ever find. Moreover, its accuracy is unmatched, and that too is the fastest. This service can be availed for $24 per month.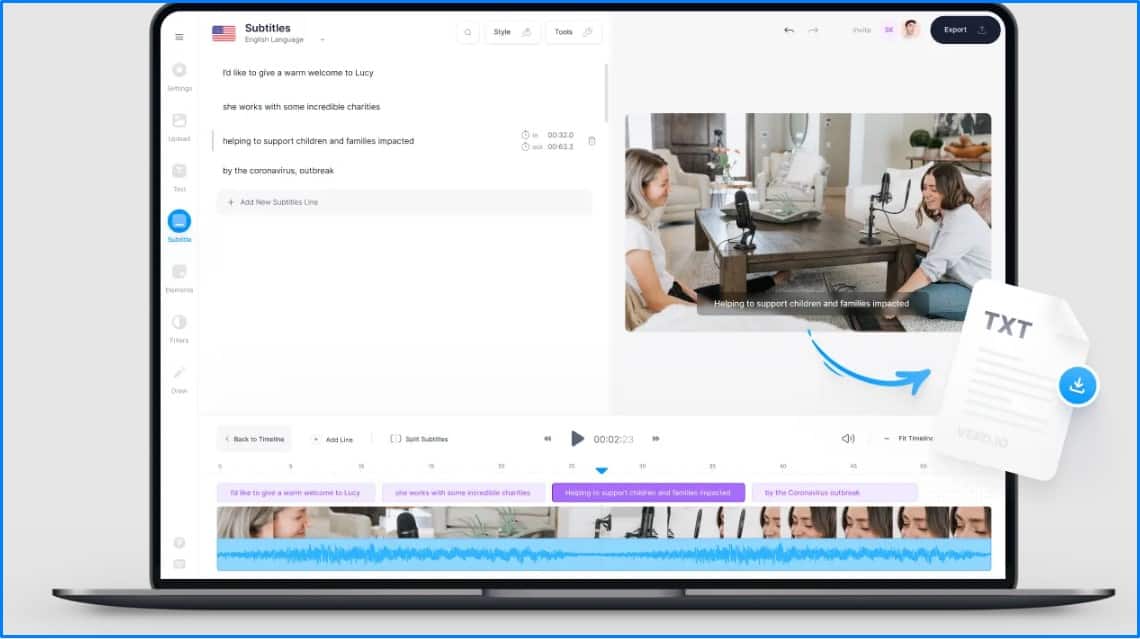 Pros and Cons of Veed Video Editor
Undoubtedly, Veed is one of the best free video editors you may have come across. It is equally effective for a newbie and a pro. Apart from having exceptional features, the following are its pros and cons.
Pros
Amazing user experience
Easy to use with a single click
Auto transcribing
The free version is available
Exceptional customer support
Beginners friendly
Cons
Limited templates
The free version offers limited features
What is the pricing plan of Veed Video Editor?
Though Veed Video Editor is one of the best free online video editors with a wide range of services yet it offers some advanced features that can be used only with a pro subscription. The following table shows you the pricing plan with the services you will get.
| | | | | |
| --- | --- | --- | --- | --- |
| Features | Free | Basic | Pro | Enterprise |
| Price | $0 | $18/mo. | $30/mo. | After prior contact |
| Watermark | ✓ | – | – | – |
| Video Export Length | 10 min | 25 min | 2 hrs | 2 hrs |
| Upload File Size | 250 MB | Unlimited | Unlimited | Unlimited |
| Projects | Unlimited | Unlimited | Unlimited | Unlimited |
| Storage | 2 GB | 20 GB | 100 GB | 1TB + |
| Downloads | Unlimited | Unlimited | Unlimited | Unlimited |
| Export Quality | 720p | 1080p | 4k | 4k |
| Clean Audio | – | ✓ | ✓ | ✓ |
| Auto Subtitles | 2 hrs | 3.5hrs/mo | 6hrs/mo | After prior contact |
| Subtitles Translation | – | – | ✓ | ✓ |
Conclusion
Veed Video Editor is a wonderful, amazing, and powerful editing tool. Whether you are a newbie or an experienced one, you can make videos equally effective and professional. The best thing about this tool is that it transcribes your video's audio automatically using cutting-edge technology with great accuracy. This tool also offers you cloud storage to upload your files as well as transcription to further access them from anywhere in the world.
However, it is also to mention that you will not be able to enjoy all features in the free version. Hence if you are a YouTuber, Digital marketer, Teacher, or Business Advertiser, use this amazing Veed Video Editor and make a professional video. For more such amazing articles, keep visiting Top10.digital.