Are you fond of photography or making videos? Do you want to use your mobile like a pro? Well, your answer might be a yes because nowadays you don't need to carry a fancy camera and other equipment for shooting. Your smartphone can provide you all the facilities to shoot whenever, and wherever you want. However, here comes another question. Are you getting satisfactory results from your mobile phone camera? If your answer is in a negative nod then I am here with a solution for you. Use the FilMic Pro camera app on your smartphone and make your mobile phone camera like a pro.
This app can fetch you each and everything a professional photographer may need. This is also worth mentioning that multi-times this app has been declared as the iOS Video Camera App of the Year.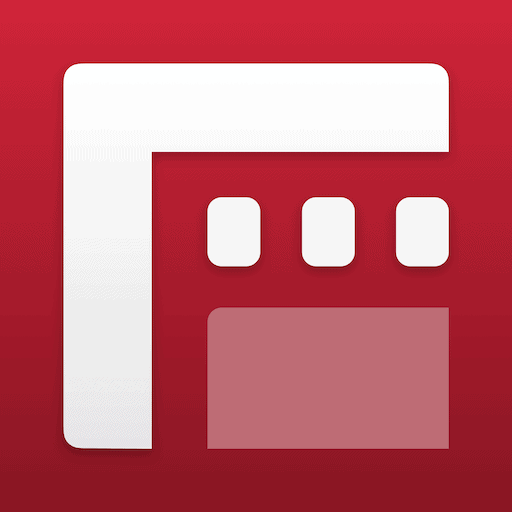 Overview of FilMic Pro
Well, FilMic Pro is one of the most advanced and feature-rich mobile camera applications that can take your videography and photo shooting to a whole new level. The app is equipped with cinematic video tools and can render you the best quality images. It uses cutting-edge features and easily can be declared as the best and the most responsive manual filming app available on mobile.
You can imagine the popularity of this app that many award-winning Hollywood Film directors are using FilMic pro to shoot their videos. The list includes many giant celebrity names like Lady Gaga, Salena Gomez, Sean Baker, Steven Soderbergh, John Legend, and Jimmy Fallon. Hence these are references that this camera app has been used in many high-profile projects and can also better your videography as well.
Features of FilMic Pro Cinematic Camera app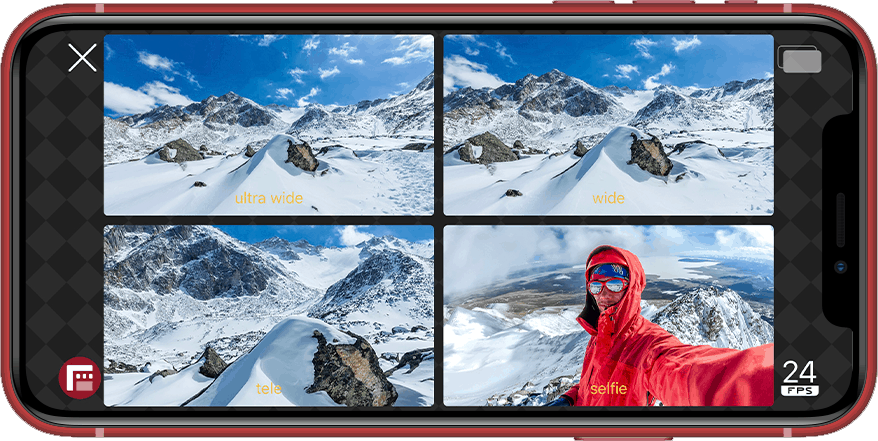 This superbly amazing app helps you to produce world-class content while having full manual control during shooting. It shoots in a true LOG gamma curve. Meanwhile, Log V2/V3 offers you a greater tonal range and flexibility in post-production by expanding the dynamic range. Eventually, it saves thousands of the cost of traditional cameras. Well, the features of this amazing camera app can be divided into the following three categories.
General Features
Advanced Features
Professional Features
What are the general features of FilMic Pro?
Well, this amazing camera app allows you to turn your simple mobile camera into a professional-level camera with its extremely incredible features. The following are its general features.
Gives the best audio control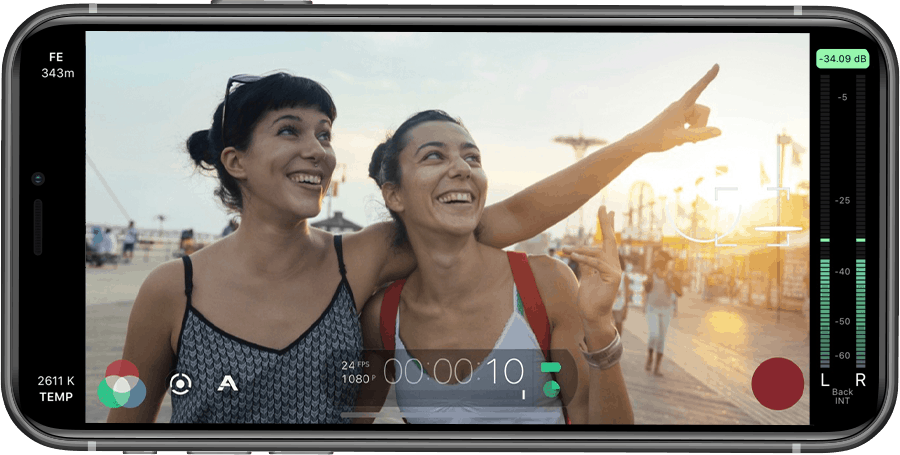 When you are shooting cinematic or high profile videos audio quality matters a lot. In other words, we can say good audio is "half the picture". Hence FilMic Pro provides the facility to record videos with high-quality audio using its class-leading audiometer. It also supports headphones and external microphones.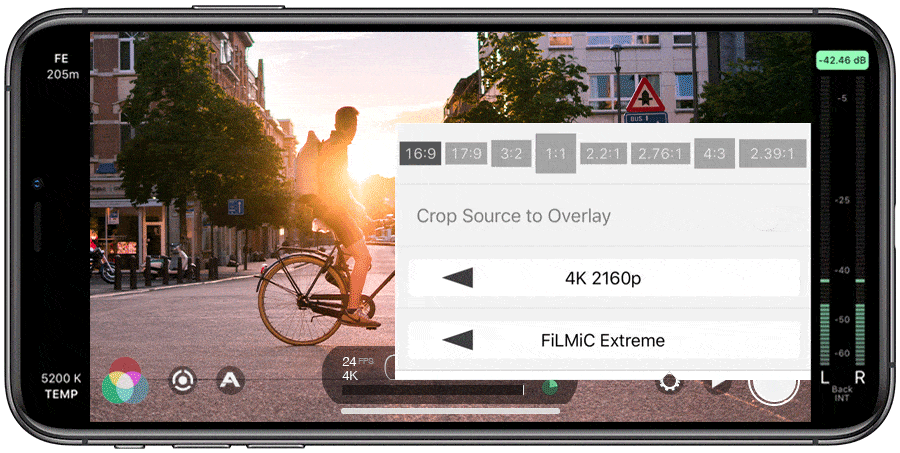 Provides better control with Auto Mode
When you need to take fast-moving shots on the go then sometimes you may lose control. However, this super amazing app gives you the option of using its ultra-responsive Auto Mode that can capture with autofocusing the main object as well as full-frame exposure sampling.
Provides the option to redesign reticles
Aiming and focus while shooting is the major aspect to be looked after. This camera app provides you the option for tactical drag, drop focus, and exposure in the simplest way.
Extreme Bitrate for good colors
Color grading is one of the most critical factors in an image. Because your whole hard work may go in vain if you have not got up to the mark color grading. The FilMic pro can give you complete control either you are going to the big screen or millions of smaller screens online. FiLMiC's Extreme Bitrate feature gives you up to 140Mbps of data-rich footage that will hold up to the rigors of color correction.
Perfect Aspect Ratio
The FilMic provides you the perfect aspect ratio for shooting. Either you want to shoot in landscape, portrait, square, 4:3, widescreen, super widescreen, or in any aspect ratio, FliMic will fetch you the best result.
Apart from this, it also supports all the class-leading gimbals including the DJI Osmo Mobile 1, 2, and 3 as well as the new OM; the Zhyyun Smooth 4; and the Freefly Movi Cinema Robot.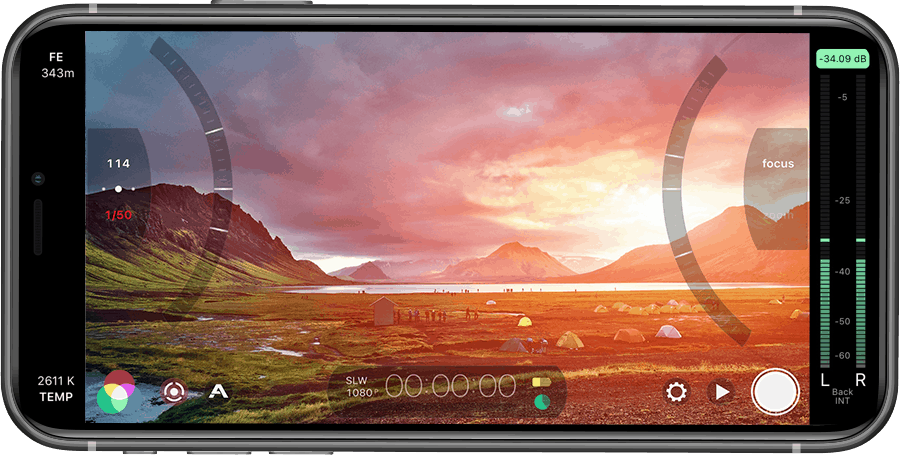 What are the advanced features of the FilMic app?
Its advanced features lead you to produce great content while giving you full control over your shooting. The following are the advanced features of FilMic.
Precise Control with Manual Arc
The FilMiC has a great feature of Manual Arc that allows you to precisely control your image over the full range. It helps you to create images similar to Hollywood Pro as well as provide Zoom moves with variable speed.
Easy appearance controlling with Imaging Panel
The Imaging Panel of this app allows you to control the whole look of your film. You can use its granular white balance, isolated temperature, and tint controls. Also, there are easy presets for all of the most common shooting environments.
Control focus using Focus Peaking
The most critical thing in mobile cameras is controlling focus because of the small screen as well as challenging lighting environment. However, FilMiC has a feature Focus Peaking whose live analytic takes all the guesswork out of where to find your area of critical focus.
Custom Frame Rate
The default FilMiC's shooting is at 24 frames per second for a true, cinematic look and feels to your footage. However, it gives you the option to shoot anywhere between 1 to 240 frames per second with unique slow and fast motion.
Manual Lens Array
Any external lens you use on your mobile phone, this app treats that as a premier prime lens while giving you full control over it.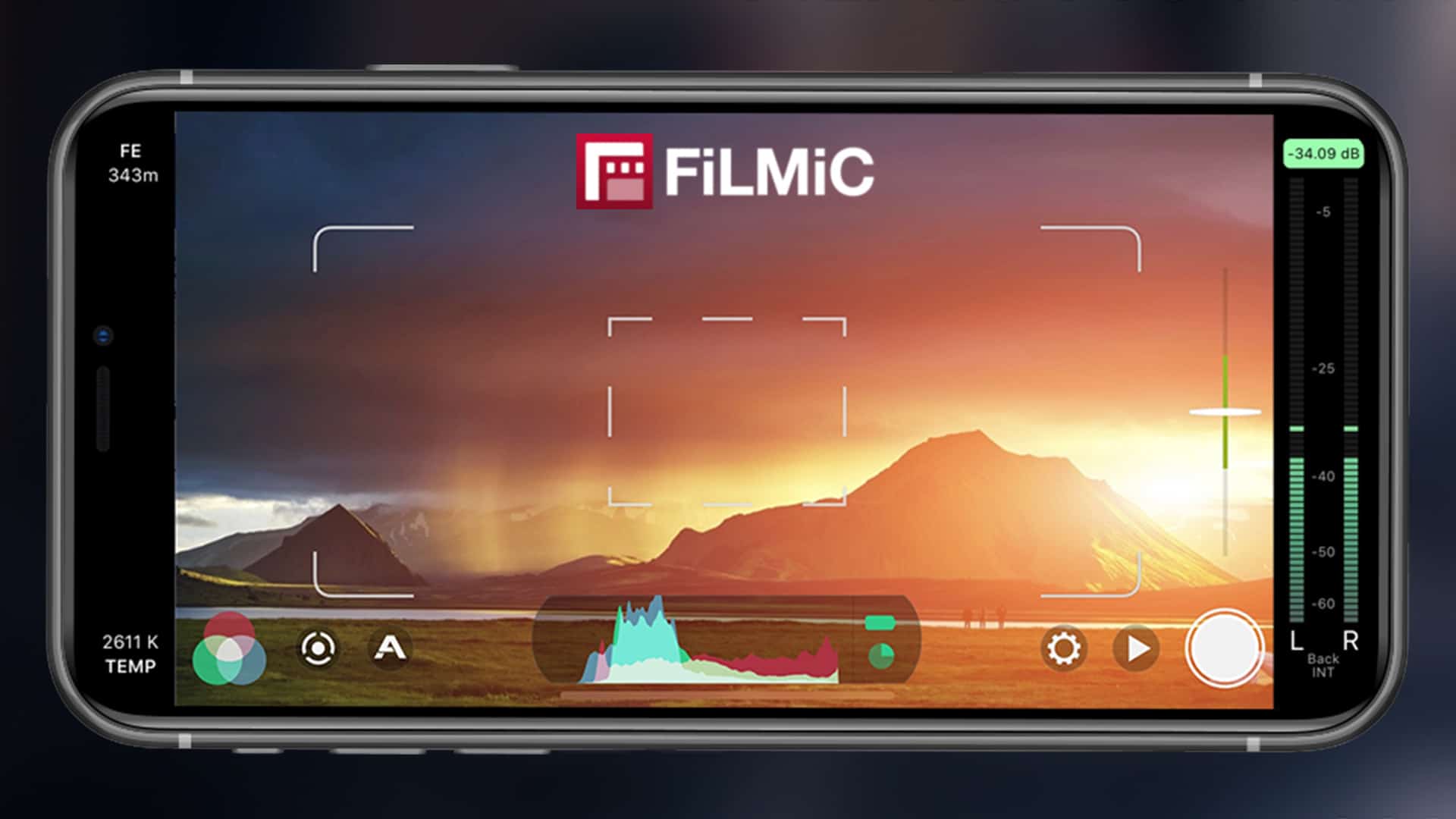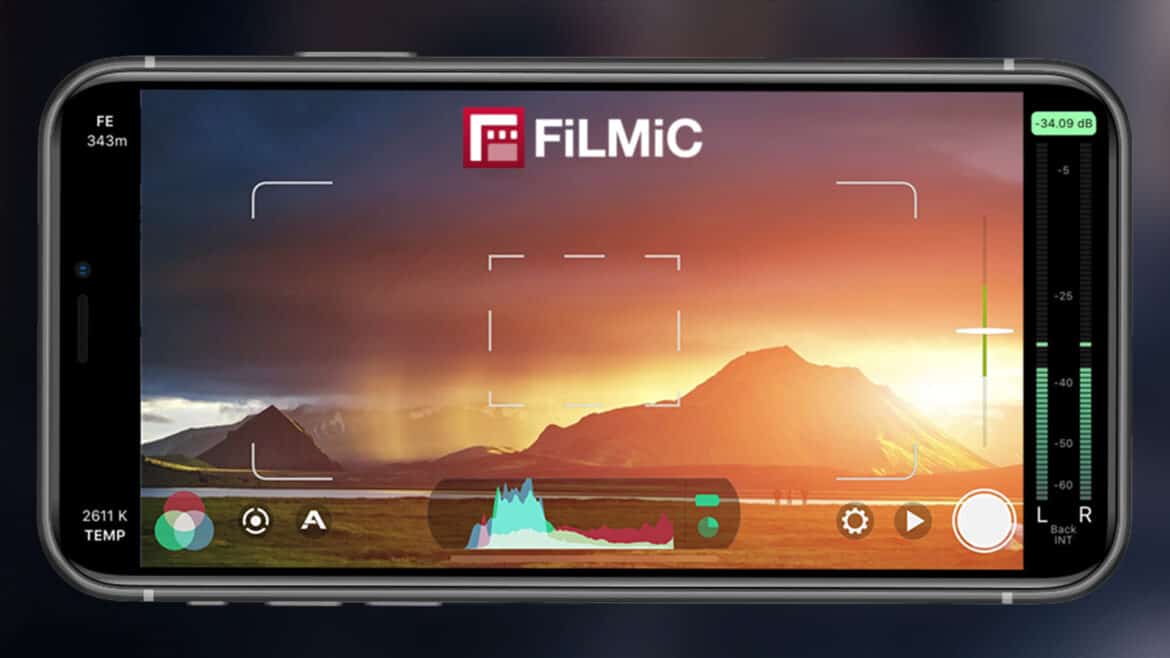 What are the professional features of FilMiC?
Well, to make your footage more pro like Hollywood, FilMiC offers you some amazing professional features. The following are the professional features.
Shoots with FLAT/LOG Gamma curve
To give your footage an extreme cinematic touch, FilMiC shoots video in FLAT and LOG gamma curve. This way you can get more latitude, better skin tones, and 1 to 2.5 stops of extra dynamic range. Eventually, it can turn your simple mobile camera into a professional-level camera that can record 4K video.
Offers HD Webcam Clean HDMI Out
Apart from using the default camera of your mobile, FilMiC also provides you the option to use its high-definition webcam and add to your live streaming studio. However, this is only available in the recent 6.12 update of FilMiC.
Supports Anamorphic Lens
Well, if you want to use the anamorphic lens that improves image quality by both enhancing vertical resolution and reducing the appearance of grain, this app also supports such lenses. It supports both 1.33x and 1.55x lenses provided by all vendors.
Luminance and RGB Histograms
When you shoot using FilMiC Pro it fetches you the detailed composition of images. It allows you to monitor the RGB waveform using FilMiC Pro's luminance and RGB Histograms. Hence you can adjust the image quality accordingly.
False Color to assess pixels
There is an amazing feature in this app that shows you the False Color Map. This map renders the pixel by pixel assessment of the exposure value of the entire footage. The green color represents the good while red and blue indicate areas of bright or clipped dark exposure zones.
Custom RGB Configuration
FilMiC Pro gives you full control over your shooting to produce a professional-level film. Hence if you are not satisfied with the default RGB you can create your own expressive RGB for a better quality image with full control over the White, Green, and Blue colors channel.
For what mobile OS FilMiC Pro is available?
This amazing application is available for both iOS and Android users. It can be downloaded from the respective app stores of both operating software. However, you can also click on the following links to download this pro camera app on your mobile phone.
However, also remember that FilMiC Pro is not a free app. You will have to pay a certain amount. The price of FilMiC Pro is $14.99 on both the app stores.
Conclusion
Pictures and videos have great importance in our life and smartphones have made it very easy to shoot images and videos with the built-in camera. However, the image quality of those default cameras may not be good. Therefore, the FilMiC Pro app is there for both iOS and Android users to turn their mobile camera into a professional-level cinematic camera. Just get this app and shoot amazing images. Stay tuned with us for more such articles.