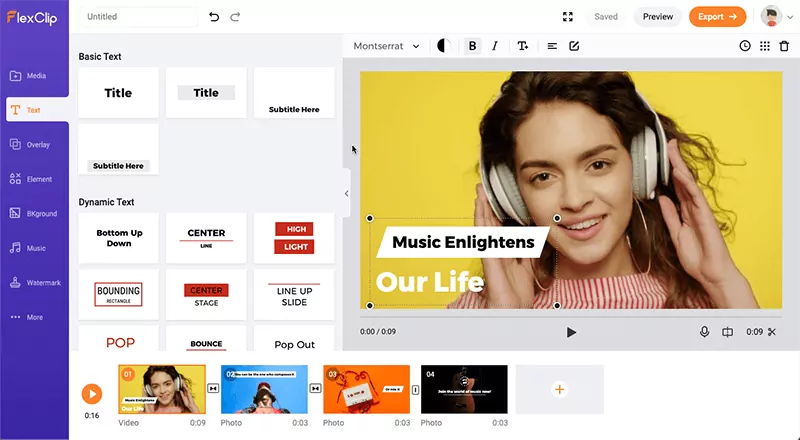 If a picture is worth a thousand words then it is right to say that a video is worth a thousand pictures. Moreover, a video could be worth it only if you have presented and edited it in the best way. No doubt video editing is a challenging task and you search for some of the best software to make spectacular videos. Surely, your foremost choice of software would be the one that can edit and make your videos most easily but the very attractive and professional. So, there is Flexclip Video Editor that can fulfill all your requirements. What features this editor can offer you? Let's explore it further in this article.

Flexclip Video Editor Overview
It is a free video editing software that enables its users to make videos of every type i.e social media videos, marketing videos, animated explorer videos, tutorials, birthday videos, trailers, family stories, and wedding videos. Also, Flexclip Video Editor aims to help those who have no experience in video editing or are newbies to it. Well, the best thing about this editor is that it is web-based software and you can use it for free just after signing up. The incredible features of this video editing software make it the best one among its competitors.
Features of Flexclip Video Editor
Flexclip video editor has some very amazing and interesting features. Moreover, it is so simple to use that even a person having zero experience in video editing can create professional videos. The following are the key features of Flexclip Video Editor.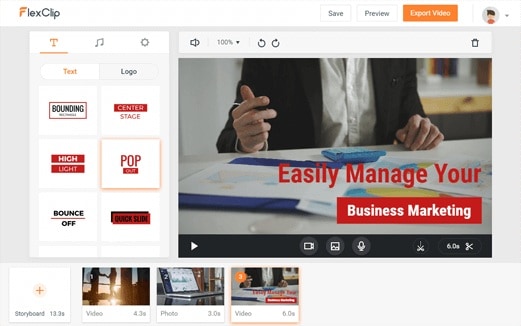 Official Website: http://www.flexclip.com/
Features of Flexclip Video Editor
Flexclip video editor has some very amazing and interesting features. Moreover, it is so simple to use that even a person having zero experience in video editing can create professional videos. The following are the key features of Flexclip Video Editor.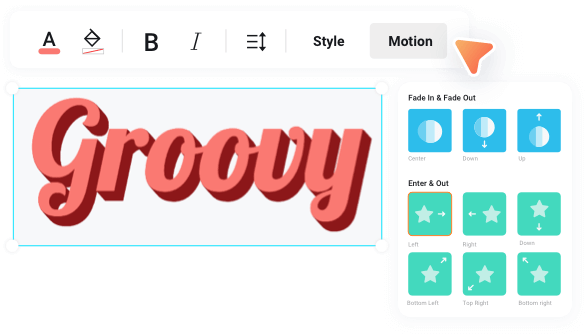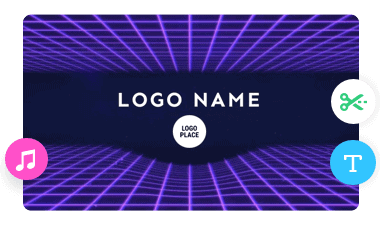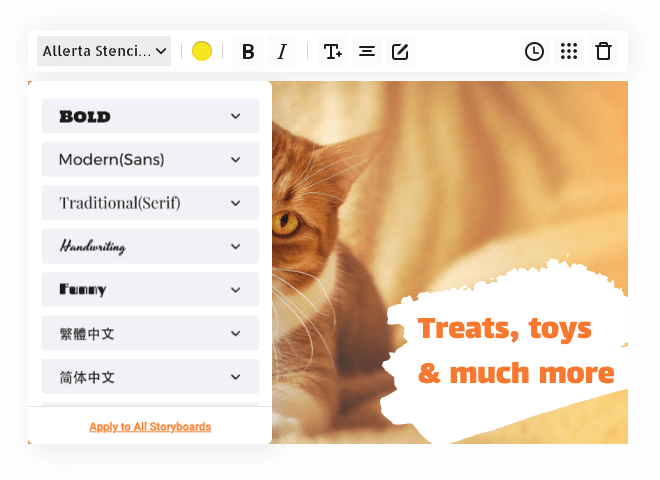 Web-based video editing platform
This amazing video editing software is for everyone. Because it enables its users to edit and create videos professionally in the simplest way. It doesn't need to be downloaded and get installed as it is an online platform. Simply you need to create your account on the official website and start editing your videos by uploading images or videos.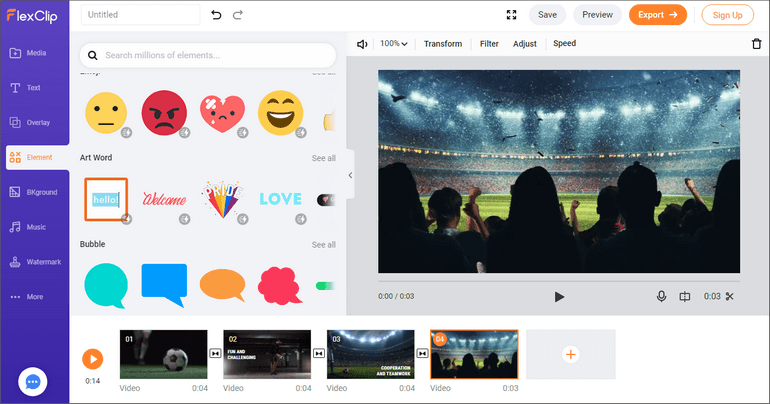 Pre-made Templates
Another amazing feature of Flexclip Video Editor that makes it prominent from other software is the availability of pre-made templates. These templates enable users to make videos in a few simple steps as well as in minimum time. There are millions of templates available for every niche on this platform. So, by using these templates you can create videos that will be effortlessly creative. The templates are categorized in the following.
Personal Video: This template can be used to create videos of birthday parties, weddings, baby showers, and other house parties and memorable events.
Business Videos: In Flexclip Video Editor, this template enables you to create professional pitches and business video resumes with few clicks.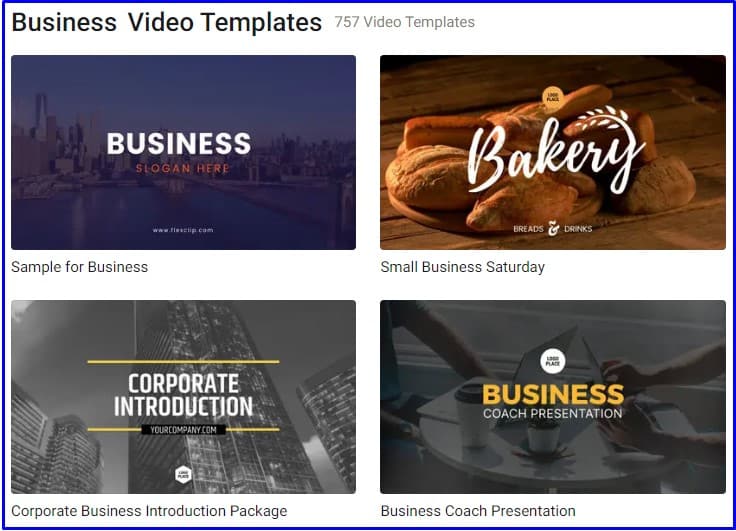 Social Media Videos: Social Media templates of Flexclip Video Editor are a perfect choice to create videos for popular social networks like Facebook, Instagram, TikTok, and YouTube.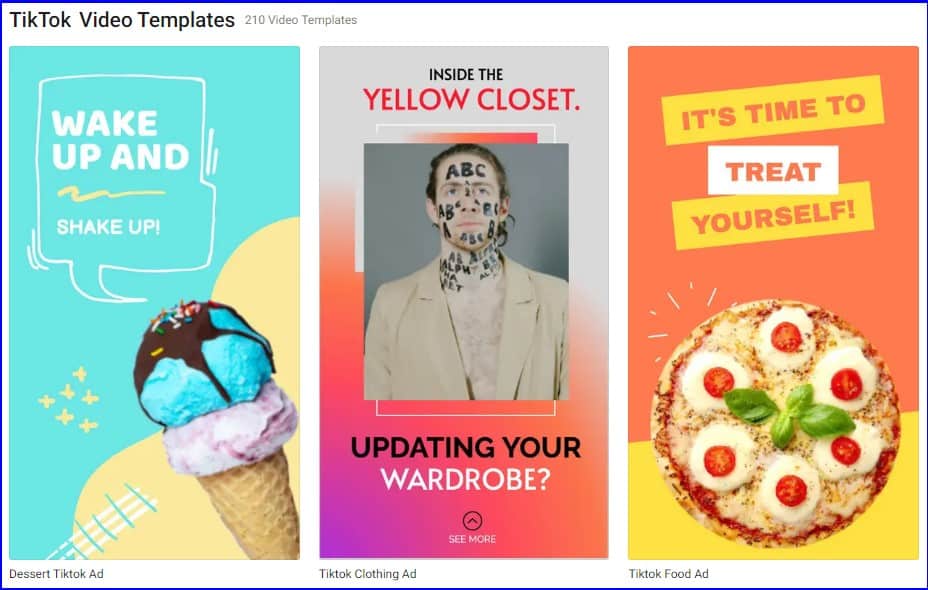 Tutorials: These templates in the FlexClip Video Editor help you create educational or how-to videos content in a very simple and easy way.
Marketing Videos: Flexclip Video Editor has one of the best and most excellent marketing video templates. You can create the campaign, promo, or product launch videos quite efficiently.
Music Videos: The Flexclip Video Editor provides a quick solution to creating music videos with its amazing music templates. Using its lyric video template, you can add lyrics to the songs as text boxes are already pre sequenced in the storyboard.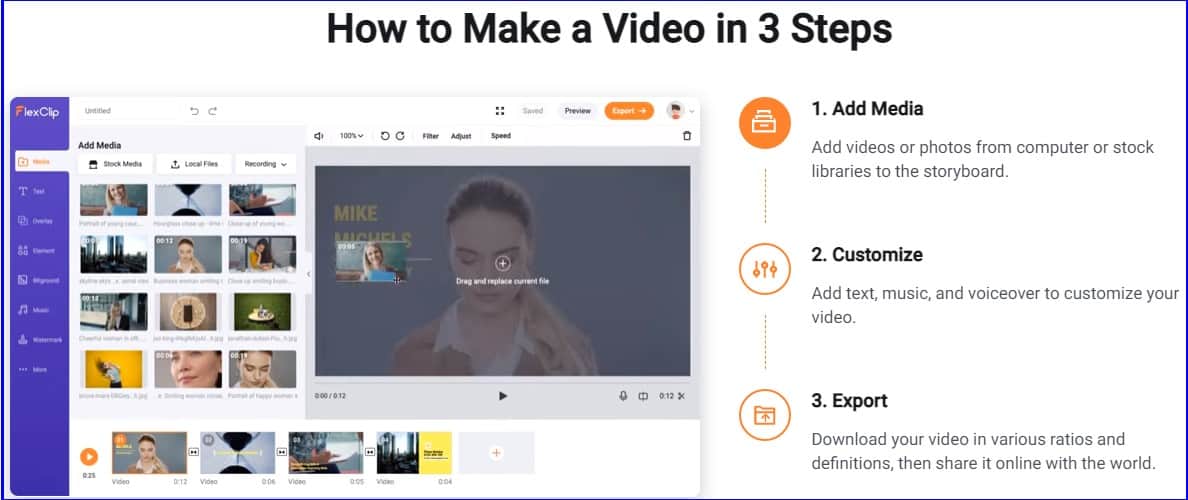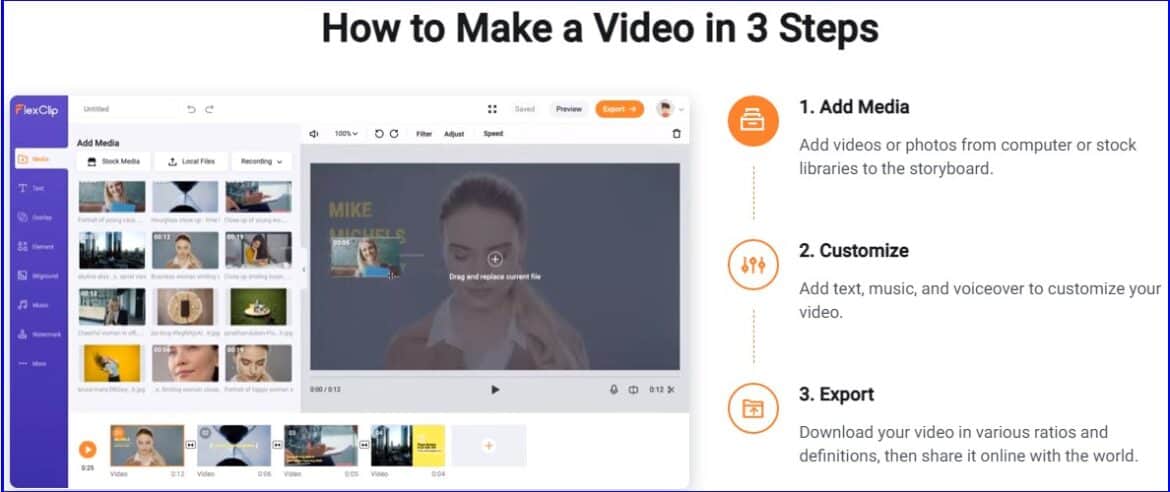 Rich Animated Elements
Animation and transition elements make your video attractive and more creative. Hence by using Flexclip Video Editor, you will be able to use many amazing rich animated elements, and that too in the simplest way. Whether you want to use diverse dynamic text, overlays, widgets, or logos you can use them in this video editor.
Royalty-free stock media
Along with other amazing features, Flexclip Video Editor has a rich content library. If you need footage, images, music, or videos for your project then don't worry this video editor has millions of royalty-free media. It has a very appealing background music library that is very popular among YouTubers.
Powerful Editing Tools
These are comprehensive editing tools that make a video editor popular among users and the Flexclip Video Editor has all those ingredients. Moreover, the best thing about these tools is that they are very easy to use even for a newbie. The following editing tools you will find in this video editor.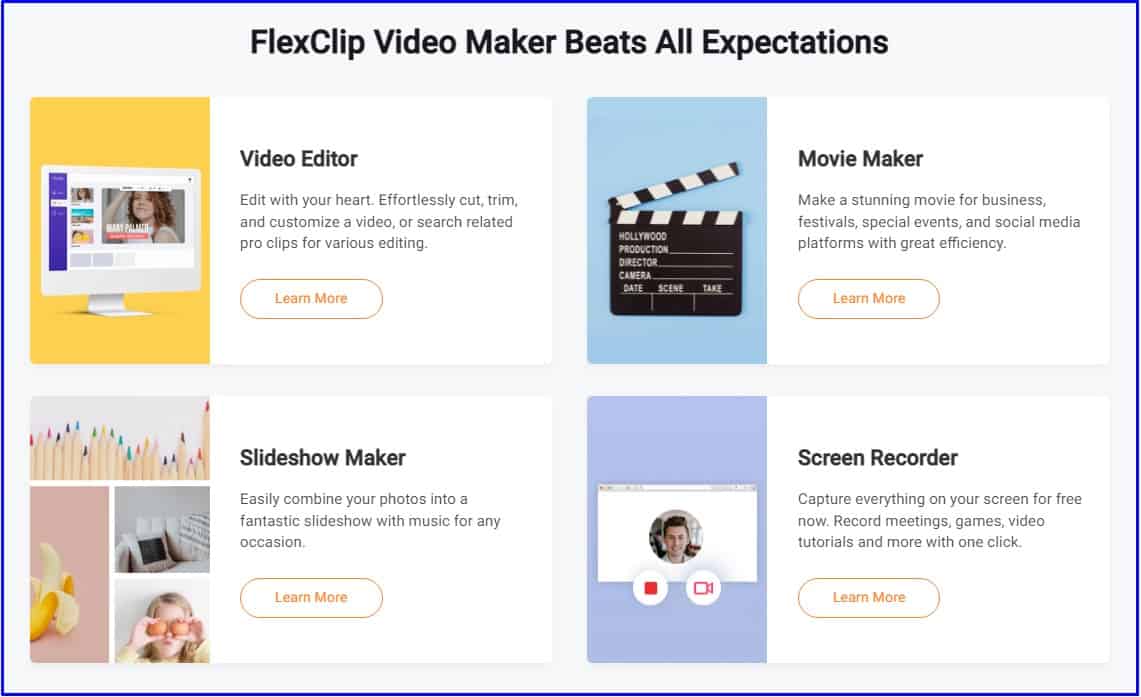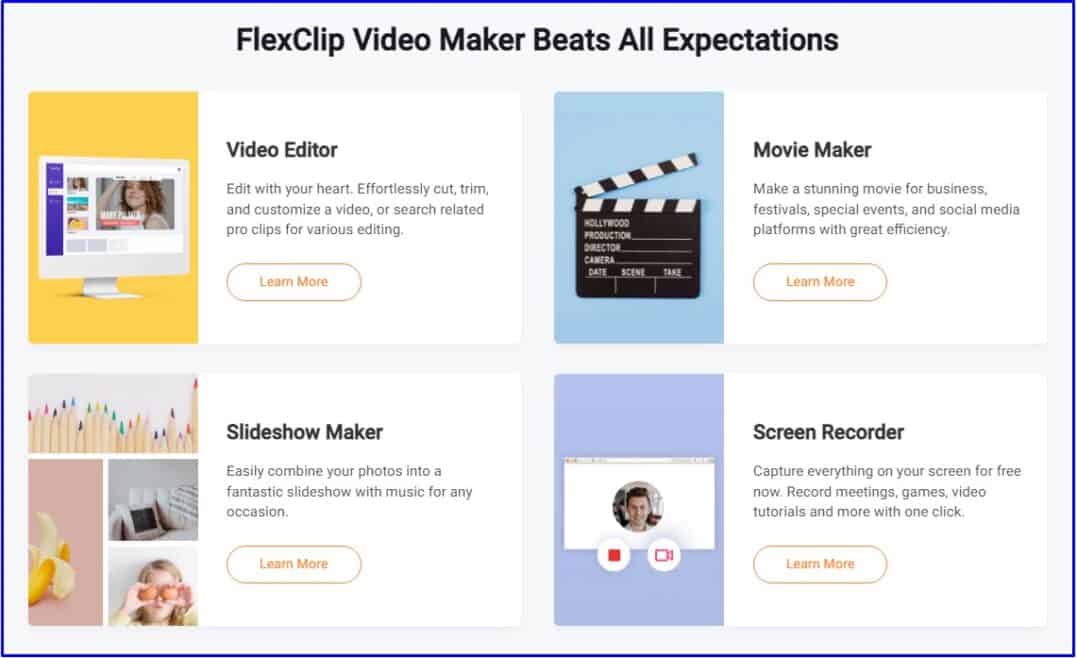 Video Maker: Flexclip Video Editor offers you to create stunning professional, festival, or social videos by using this tool. When you visit the website you will find a very simple workplace where you can add media, customize it and export the video file. Meanwhile, you can use rich animated elements, royalty-free media, and transition elements as well.
Video Trimmer: Trimming a certain part of your video has become a lot easier with this tool of Flexclip Video Editor. You can trim video by just dragging your cursor. This amazing editing software allows you to get creative by applying a jump cut, axial cut, cutaway, match cut, smash cut, parallel cut, or cross-cut.
Video Merger: Merging videos were never easier but Flexclip Video Editor has made it. Now you do it by uploading all your videos and images at once, arranging them in a sequence, and with one it is all done.
Video Converter: Video conversion is one of the most important factors in video editing. Sometimes you have to increase or decrease the size and resolution of a video as well as compress them. So, you can do all this with this amazing editing software. It lets you export files in ay format i.e MP4, MOV, WAV, M4V, WEBM, JPEG, and PNG.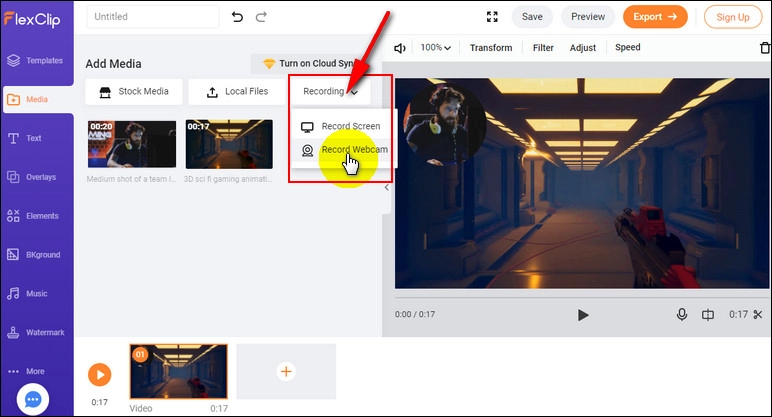 Built-in screen/WebCam recorder
If you want to create tutorials or instructional videos then the Flexclip video editor is the best solution. As the name suggests it allows you to capture or record your screen activity and incorporates it as a video in your workplace. The best thing about the Flexclip Video Editor is that it works as a video editor and screen recorder simultaneously which allows you to speak or add voice-over while recording.
Storyboard & Timeline Mode
Flexclip Video Editor is equally efficient for both experienced and newbie video editors. Because it offers storyboard and timeline mode simultaneously. If a non-experienced video editor wants to create a simple video in a few minutes then he can use a storyboard mode. While The timeline is the space of a video editor where you arrange your video clips and map out all the edits you'd like to apply. From start to finish, you'll see all your video clips, audio clips, effects, and transitions laid out in chronological order as you work. Hence his video editor fulfills all your requirements.

Background Removal
Removing the background of an image or a video precisely is a hectic task, especially for the newbie. However, the Flexclip Video Editor has made it quite easy with its AI-powered tools. Now users can remove the background of their media files with just one click and within five seconds. Moreover, it is an online tool and you need to upload your desired file and it will remove the background immediately for you.
Cloud Storage
Another amazing feature of this amazing video editor is the availability of cloud storage. User can save their files online on the Flexclip video editor and later can use them from anywhere even if they change the devices they will find their data on the homepage once they log in to their account. However, this feature is only available only in the premier accounts.
Upload custom fonts
The attractiveness of your video largely depends on the font styles you choose. Though Flexclip video editor provides a lot of pre-installed fonts yet you can upload custom fonts also. However, adhere to the following instruction to upload fonts.
| | |
| --- | --- |
| Font Formats | ttf, otf, woff, woff2 |
| Size of file | Every font file within 100 MB |
| Uploading fonts limit | No more than 10 font files (total 100fonts) |
| Font usage | In all video projects |
This is also to mention that this feature is available only in the premium account. Once your subscription is expired, your fonts will be saved online for 3 months. If you don't upgrade your account for three months the uploaded custom fonts will be deleted automatically.
Pros and Cons of Flexclip Video Editor
Though Flexclip Video Editor is a perfect solution for making and editing videos whether you are an experienced editor or a newbie yet it has some pros and cons that are the following.
Pros
Simple and easy to use yet powerful video editor
Web-based video maker
Rich media library
Rich animated elements
Great set of pre-made templates
Comprehensive editing tools
Built-in screen and cam recorder
HD Video support
Cons
Limited graphics control
The free version has limited projects
Video duration is limited
What is the price of Flexclip Video Editor?
The Flexclip video editor can be used free of cost, however, it has paid version also with advanced features. The following image shows its all pricing plans with features.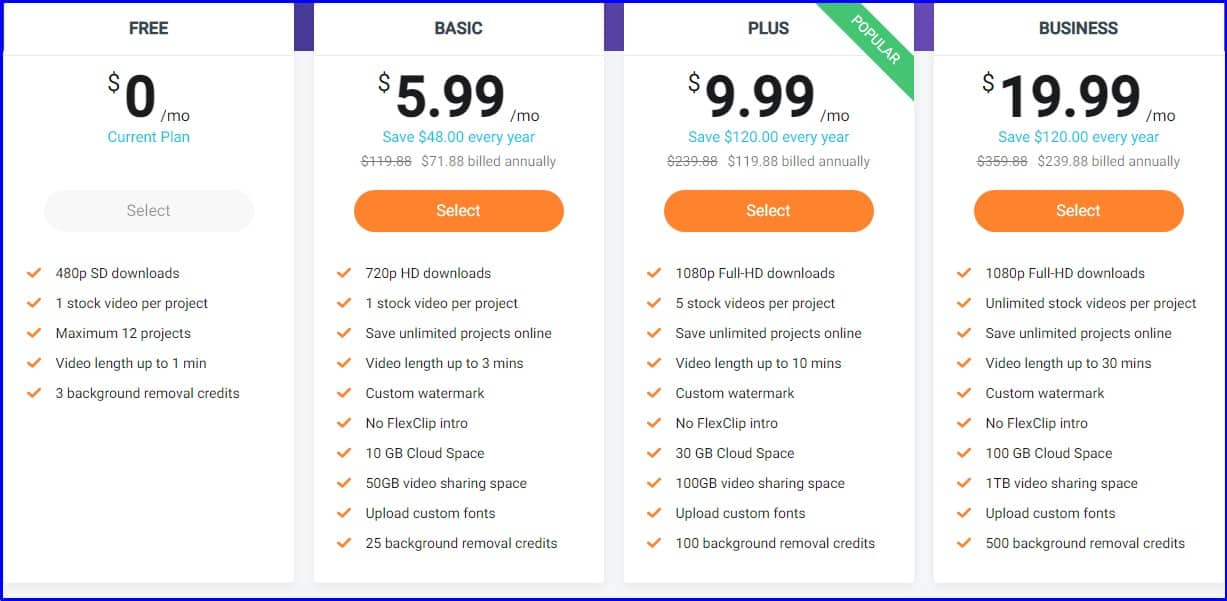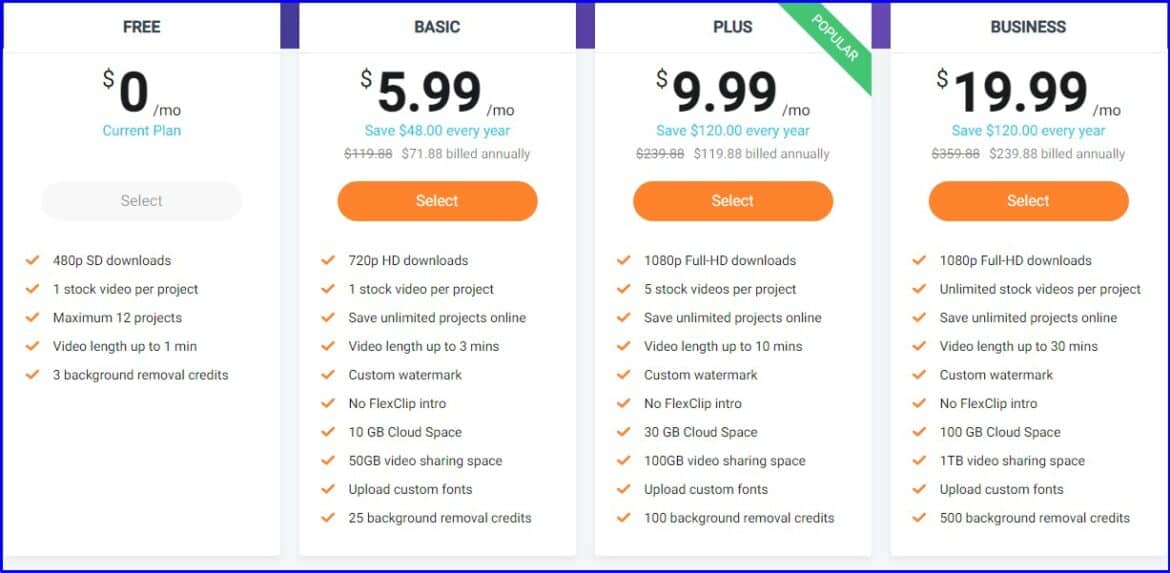 Conclusion
Video editing is an essential skill set to create attractive and professional videos in this era foreseeing the popularity of video content. Almost, every aspect of life is being recorded and uploaded on social media platforms as well as kept for personal records. Whether you are a YouTuber, Teacher, Business owner, or digital marketer, you need to create videos to present your work. And to make videos professionally, editing is a must-learned skill. Therefore, you can use the Flexclip Video Editor which is an online video editing software and is equally efficient for experienced and newbies. So, visit its official website and start using it right now. For more such valuable content keep visiting Top10.digital.