What is ClipGrab? Well, we are living in an era of social media where YouTube, Facebook, DailyMotion, and Vimeo have had an everlasting impact on us. These sites have connected the people with great ease and the content on these social media sites is helping the users a lot. Especially, YouTube and other video sites are a great source to learn new things every day. However, there is an issue with these sites that you can't download videos directly.
Then what to do? Do you use an internet download manager? Or do you paste the video link in the third-party software to download it? Though Internet Download Manager is a great source yet it is not totally free. But hold on! give a try to ClipGrab which is a free download manager with a lot of exciting features. Let's explore it further.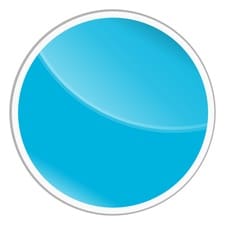 Overview of ClipGrab
It is free multi-platform software that enables you to download and convert videos from various websites such as YouTube, Video, Dailymotion, or Facebook. This free software was initially released on 5 November 2007 while its stable release was made on 29 May 2020. Apart from downloading the videos, it can also convert videos to other formats such as MP3, MPEG4, OGG Theora, or WMV. ClipGrab is licensed under GPLv3 and is available in three languages English, German, and French.
Features of ClipGrab
This download manager is very easy to use and fetches you a lot of exciting features. It provides you with the solution to downloading videos. The following are the features of this amazing and free internet download manager.
It supports to download videos from all official video websites as well as many other unofficial websites
It offers you different quality options for a video
It enables you to download videos in HD, SD, or MP4 and any low definition version
It automatically can detect compatible URLs when are copied to the clipboard
It also provides you integrated search option for YouTube
It allows you to converts videos in any video format
It has an easy to use interface designed beautifully
Why I should use ClipGrab?
Well, this is a genuine question that why to use this particular internet download manager and should not go for any other. The following are the reasons you should use this software.
Totally free software
The first and foremost reason to use this internet download manager is that it is totally free. You have to pay nothing to download and use this software like other download managers. However, it is up to you if you want to donate any amount.
Supports multi-platforms
Another reason that you should use this software is that it supports multi-platforms and various video websites. It includes YouTube, Facebook, Vimeo, Dailymotion, as well as many unofficial websites.
YouTube Search option
ClipGrab allows you to search for videos from YouTube using its own search bar without opening YouTube separately. Within the app, you can search for videos of your choice.
Format conversion
It does not just work as a downloader but as a video converter too. Hence you can convert already downloaded videos into any format of your choice. Also, it allows you to convert videos into MP3 format.
How to download and install ClipGrab
Well, after going through the above content and knowing about the features of ClipGrab, you may be wondering how to download it. You can follow the following steps to download this amazing free internet download manager.
Step1: Visit the official website and click on Free Download Button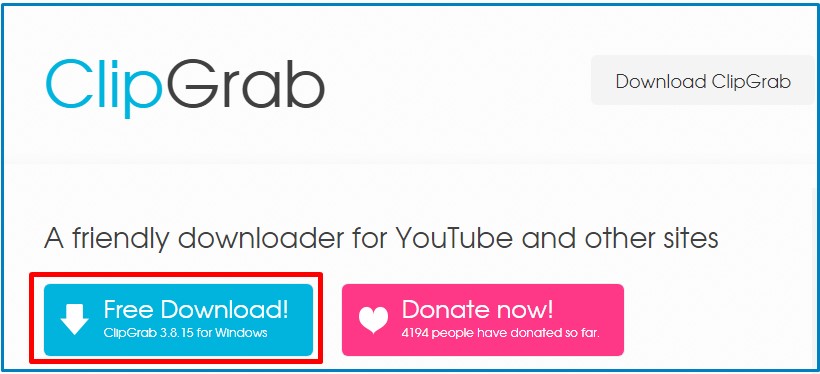 Step 2: When you will click on free download, it will bring to another window where it will ask you whether you want to donate or not. Again click on Free Download, if you don't want to donate.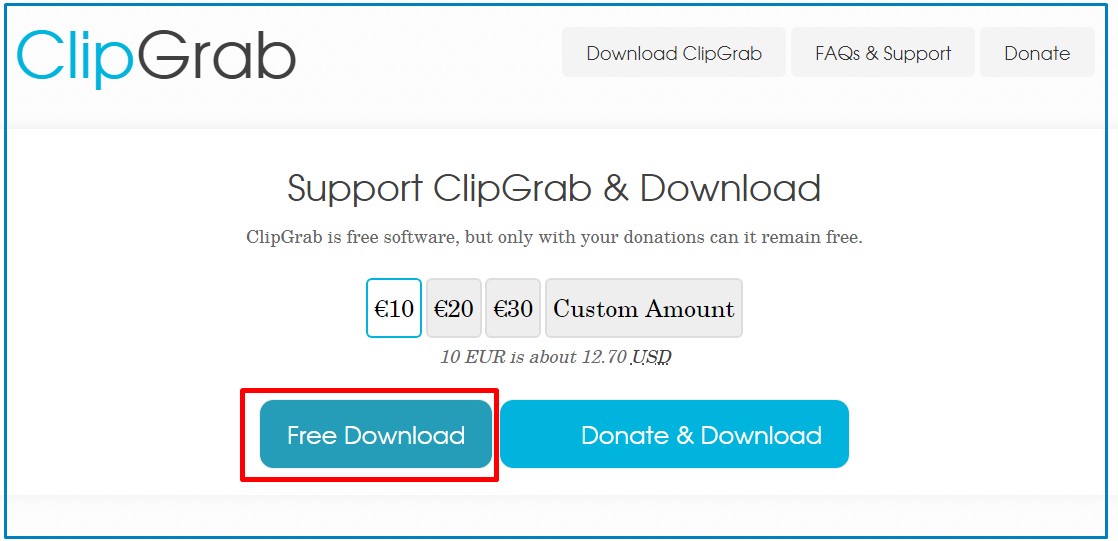 Step 3: When you again click on the free download button, it will start downloading 68MB .exe file with a thank you message
Step 4: Once the file is downloaded, double-click on it to install the setup and follow the instructions. It will not take much time, once it is installed start using it.
How to download videos using ClipGrab?
So, you have downloaded and installed ClipGrab and now want to download the videos then follow the following steps.
Step 1: Launch the ClipGrab application and default interface be there.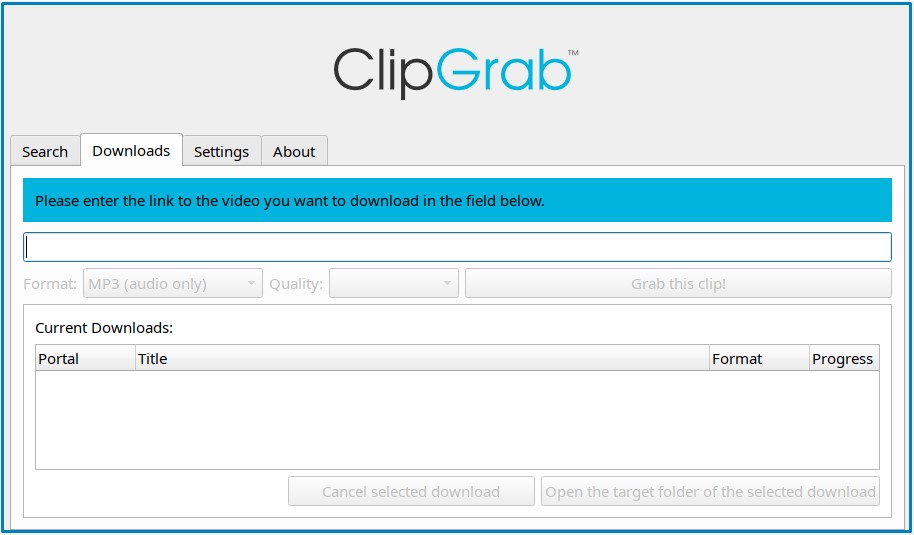 Step 2: Copy the link of your required video and the paste it in the bar.
Step 3: Now choose the format and quality of video in which you want to download video as shown in the image below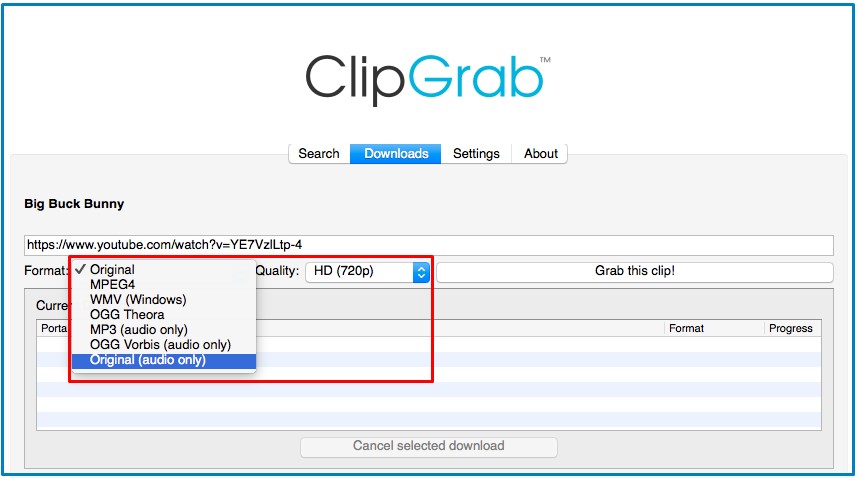 Step 4: After that click on the Grab this clip! to download the video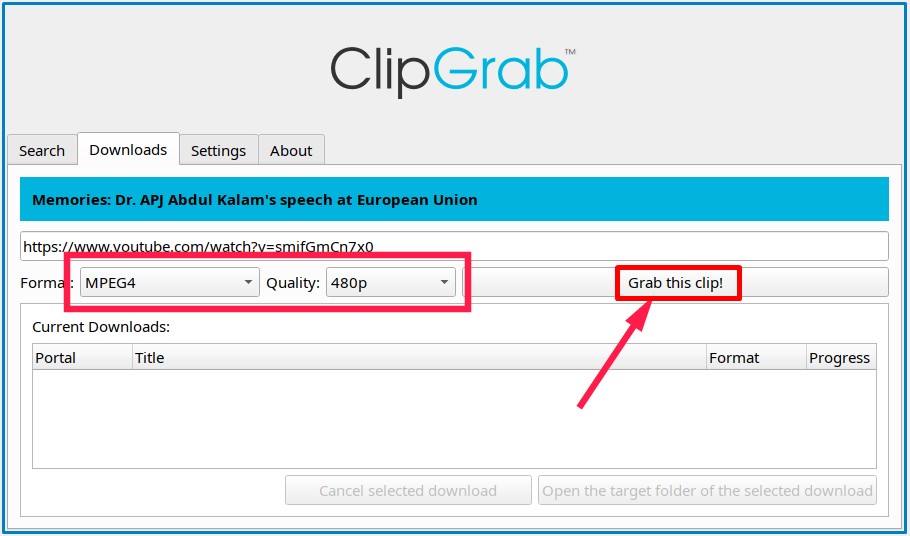 Hence you can download videos of other websites too using this amazing free video downloader.
Pros and Cons of ClipGrab
This free software is very easy to use and offers a lot of features. Let's have a look its pros and cons.
Pros
Easy to navigate UI
Built-in YouTube search tool
Supports a lot of video websites
Monitors and detects the link
Downloader as well as converter
Cons
Sometimes you might experience slow download speed
Low search results with in-app search tool
Conclusion
Well, ClipGrab is a free video downloader as well converter that allows you to download videos from almost all video sharing websites like YouTube, Facebook, Vimeo, and Dailymotion. Also, you can convert videos into audio files. To read about more such free software and tool, stay tuned with us.
Disclaimer: Top10.digital would not be responsible for any misuse of ClipGrab i.e downloading any copyrighted stuff, or private videos. We have written here for educational purposes only.