Are you fond of making movies? Either these could be of your beautiful memories, your traveling, tutorial, or whatever. If your answer is yes, then what do you do? Do you use expensive paid software? Or are still you in search of a good, advanced, and free movie maker tool with a lot of features? Then cheer up because your searching and wait are going to be over. Yeah! it going to be possible for you once you come across MiniTool MovieMaker. This tool has almost everything you need to make a video and also for free. Let's have a deep dive into this to know everything about it.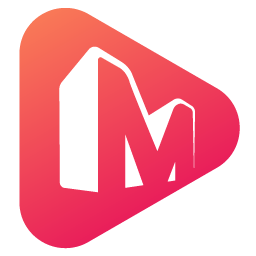 Overview of MiniTool MovieMaker
It is a free and powerful movie making and editing tool that allows you to create fun, cinematic-style movie trailer, and movies as well. While the best thing about this tool is, it is very simple and easy to use. Also, it enables you to create and edit videos without any video design experience because of its user-friendly and simple interface. Despite being a free tool, MiniTool MovieMaker is pretty straightforward and intuitive which offers a surprising amount of effects and transition to work with.
Features of MiniTool Moviemaker
This free editing software offers you everything, you can need while editing or creating video. However, you can do the following with this amazing free video making software.
It has a lot of free templates that you can choose from the library. If you want to create video invitations, record love stories, make a wedding video and can create a festive greeting or make short slide shows. This is very useful if the users want quick and easy results.
It offers you free songs to add to your videos that are already built in the audio library. Though there are not many songs available yet they will consider adding more.
It allows you to save the edited video to different sizes/formats. You can even choose a mobile device so the exported video will be compatible with that device.
This video making software has full support for 4K videos. You can import them to the software to edit without any restrictions.
It also offers you to export a short video as a GIF animated picture.
It has both light colors and dark themes. So, you can switch between the two when you want.
It offers to import pictures and videos in bulk and edit them together.
MiniTool MovieMaker is, though free yet it does not add any watermark to the videos after saving them.
How to download and install MiniTool Moviemaker?
It is very simple and easy to install this video editing tool on your PC. You can follow the following steps to install this moviemaker.
1. Download the MiniTool MovieMaker from the official website of MiniTool
2. Once the installer package is downloaded, double click on it to run the installer and then click on the "Install Now" button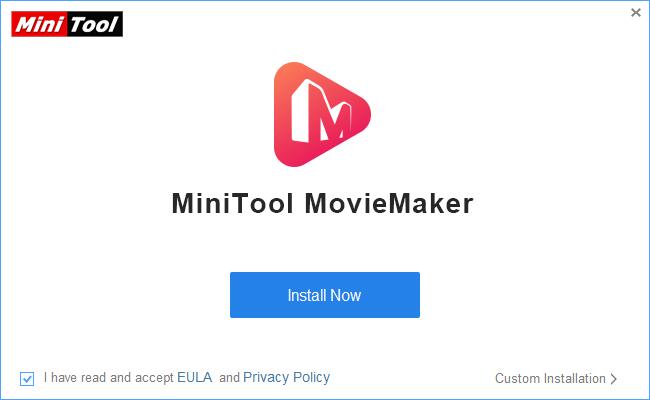 3. Follow the installation guide while it will start installation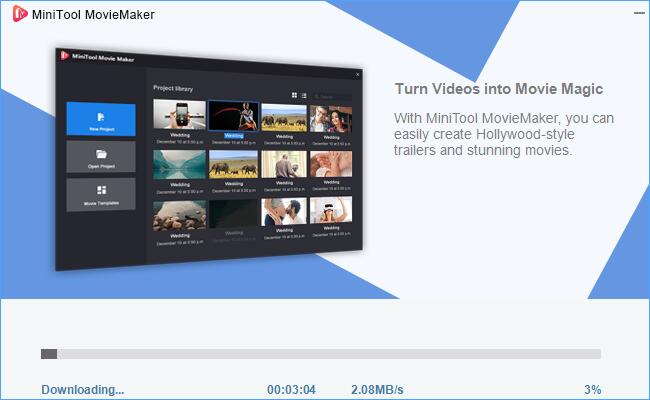 4. It will auto-complete the installation and a window will appear showing the Start Now button. Hence it is installed now, click on this button and start using it.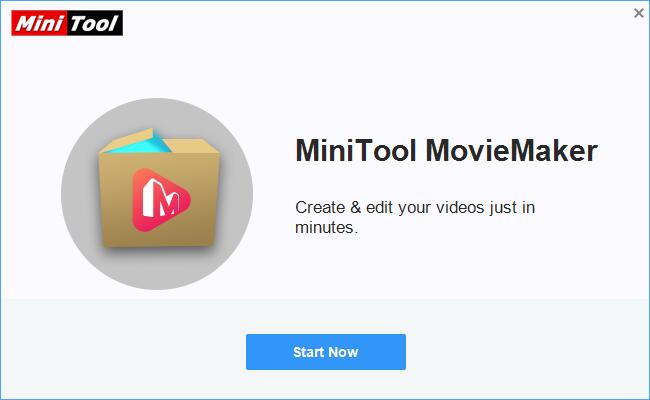 However, you will have to frequently the official site of MiniTool and if you find any latest version of the software then download and install it for better productivity.
System requirement for MiniTool MovieMaker
To get the best results and making your video editing more productive, your PC should have the following specifications and features.
Supported OS
Windows 7/ 8.1/ 10
CPU
Intel i5 or better (6th-gen recommended)
RAM
8GB
Graphics Processing Unit (GPU)
Intel HD Graphics 5000 or later,
NVIDIA GeForce 700 or later
AMD Radeon R5 or later
Disk Space
10 GB free hard disk space (SSD Recommended)
What can you do with MiniTool MovieMaker?
Well, with the simple timeline of this amazing tool you can do magic with your videos. Moreover, the following are the amazing things you can do with this movie maker.
Trim/Split/Merge Videos
While editing or making videos, sometimes we need to eliminate the unnecessary part from the original video. So, this amazing tool is one of the best video editors that can do this job for you. Besides, it allows you to split long videos into multiples parts as well combining multiple videos in a single video.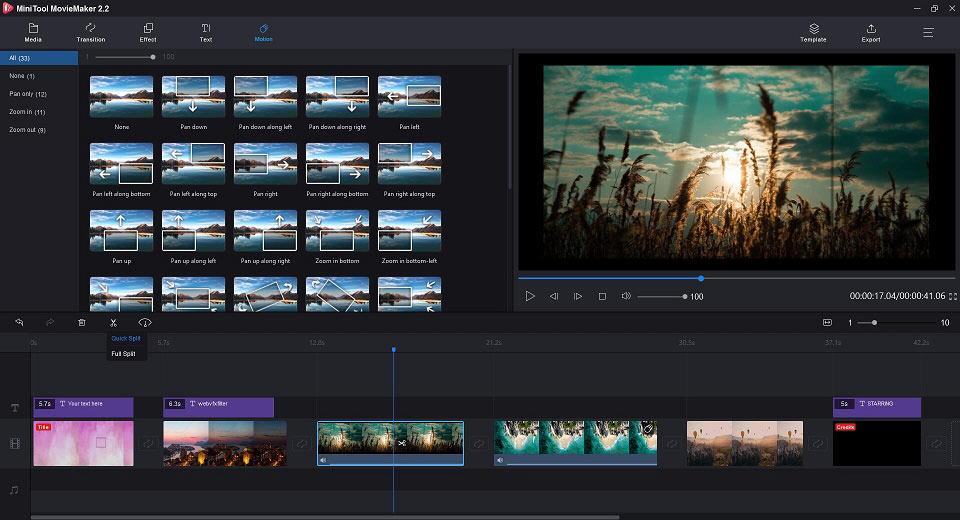 Add Customized Text/Subtitles/Captions
Title, welcome note, captions, subtitles, and endnote make your videos more explanatory and effective. Therefore, this movie maker can be the best choice for such tasks. While you can also add animated titles, or in plain text as well.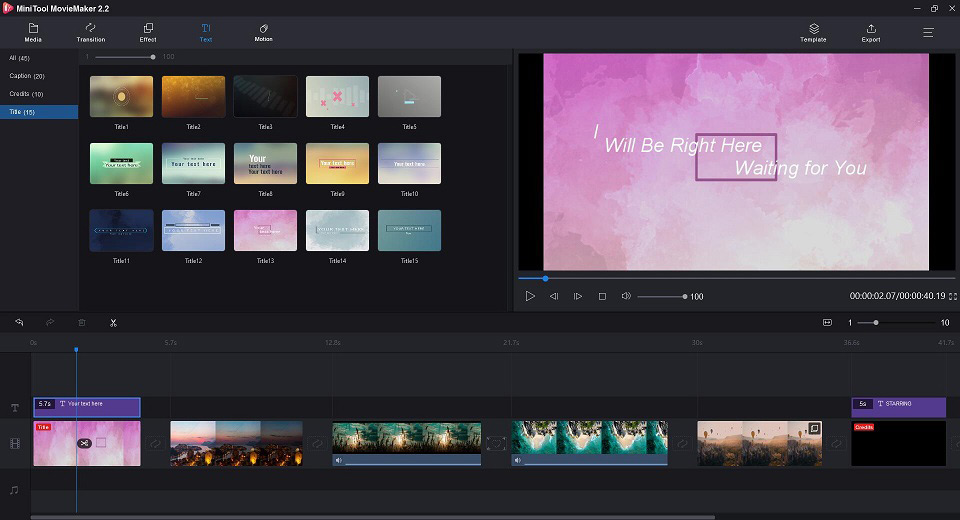 Apply Transition
Transitions can make your videos more attractive and beautiful. In some video editing tools, applying transition is not so easy. However, MiniTool MovieMaker enables you to apply transitions in the simplest way. Simply, you need to click the Transition Tab in the menu bar. Then drag a specific transition of your choice to the timeline of your video. Hence you can control how the video will play from one clip to another. Also, you can manually set the duration for each transition you apply.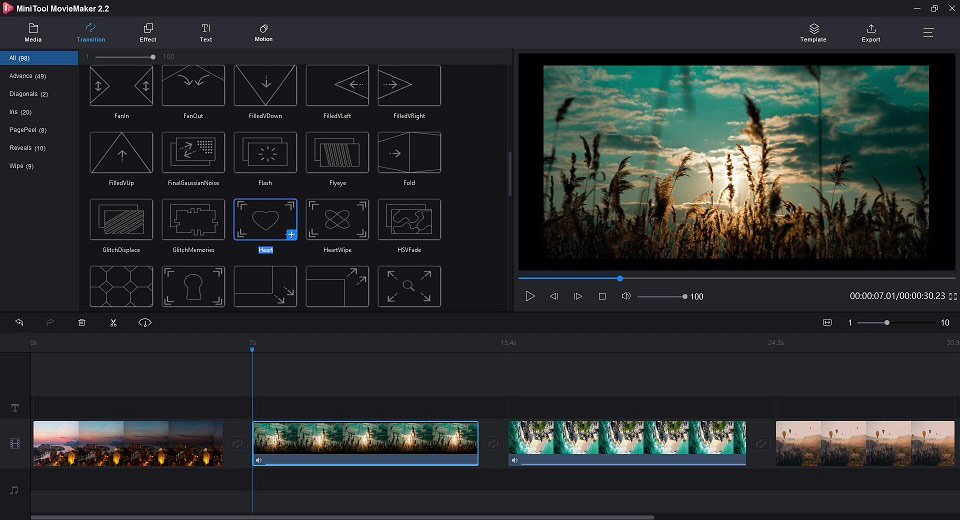 Apply Video Filters and Effects
MiniTool MovieMaker enables you to apply different filters and effects in a quick way. So, you can increase, or decrease the contrast. saturation, and brightness, etc. to make the final video more stunning and amazing. The simple and easy-to-use interface of this editing software enables you to do such tasks without any prior experience.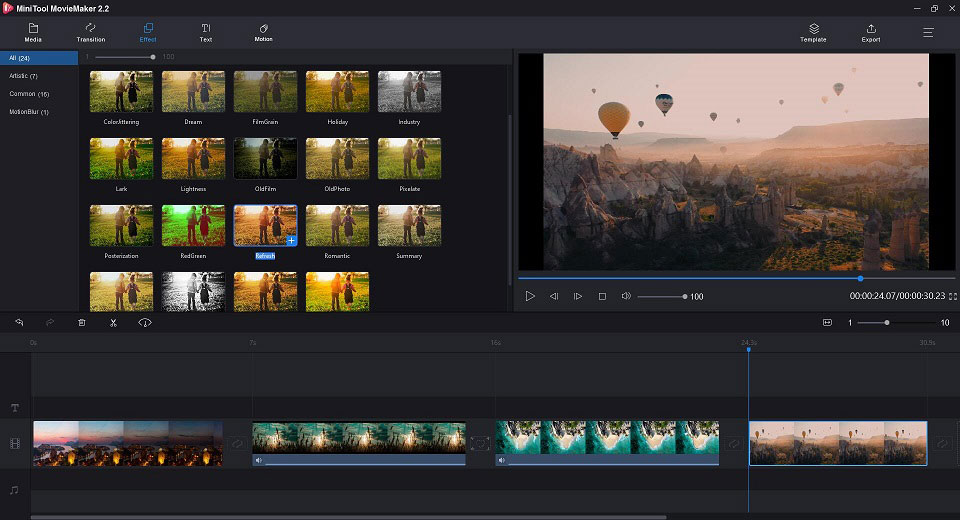 Free Video Template Library and Music
Well, to make your videos more stunning, and amazing sometimes we add templates. While we find it no easy task in the free version of various other popular video editors. However, MiniTool MovieMaker offers you some free templates as well as free music that you can use for your videos. Hence, you can use these templates with one click and can save your much time while editing videos. However, you have to make minor changes.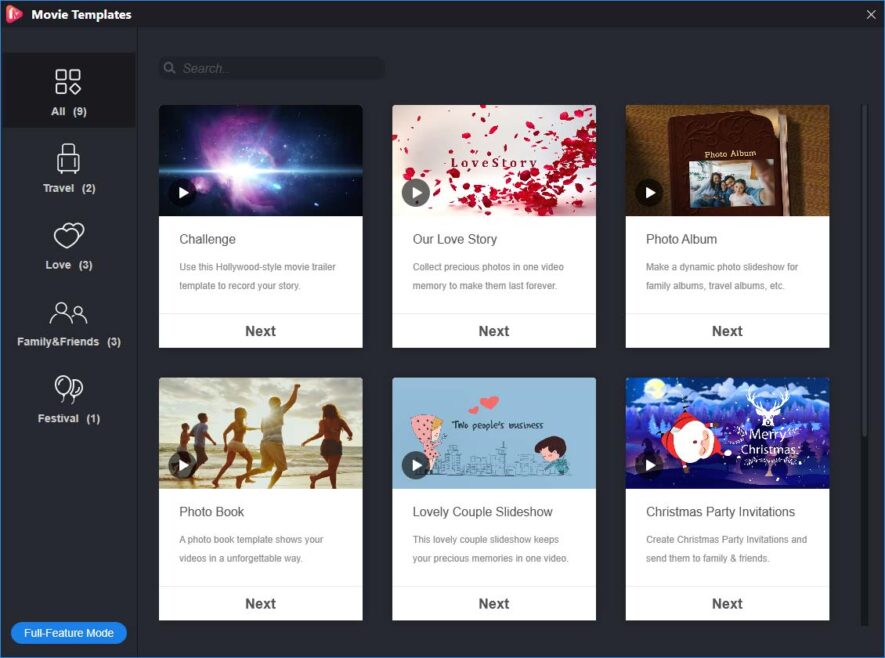 Control speed of video
The speed of a video matters a lot with the scenes of the video. Hence this software will help you to play the videos from beginning to end, accelerate or slow down the video to make the content look cool. The speed options include normal, 0.5x, 0.25x, 0.1x, 0.05x, 0.01x, 2x, 4x, 8x, 20x, and 50x.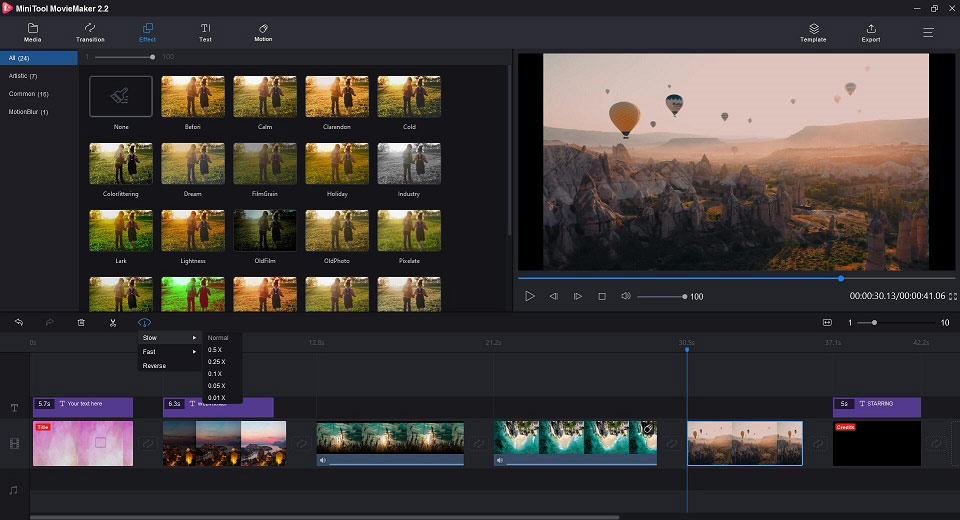 Turn Images/Photos into Slide Show
Do you want to save your pictures in a video as a slide show? Well, your answer would be yes because in this way you can gather your pictures in a single video file. And MiniTool Movie Maker can be the best choice for you as it is totally free as well as simple to use. To do this simply import pictures/photos into the video editing software, add background music and video transitions, you will get an amazing musical slide show.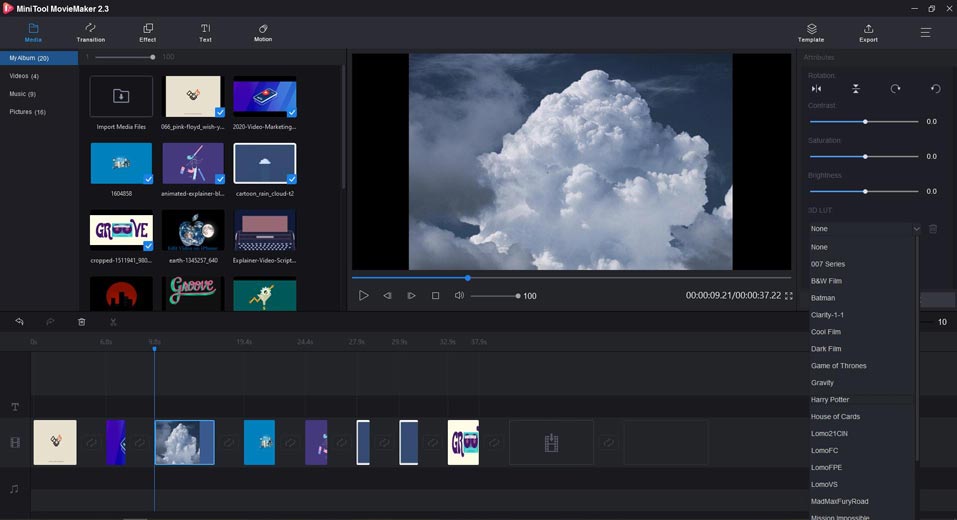 Save the edited videos in different formats
Using MiniTool MovieMaker, you can save the final edited video file in different formats. The formats include are MP4, AVI, MOV, WMV, MKV, TS, WebM, and many other formats that you need. If you want to extract the audio or background music from a video, you could use MiniTool MovieMaker to convert the video to MP3.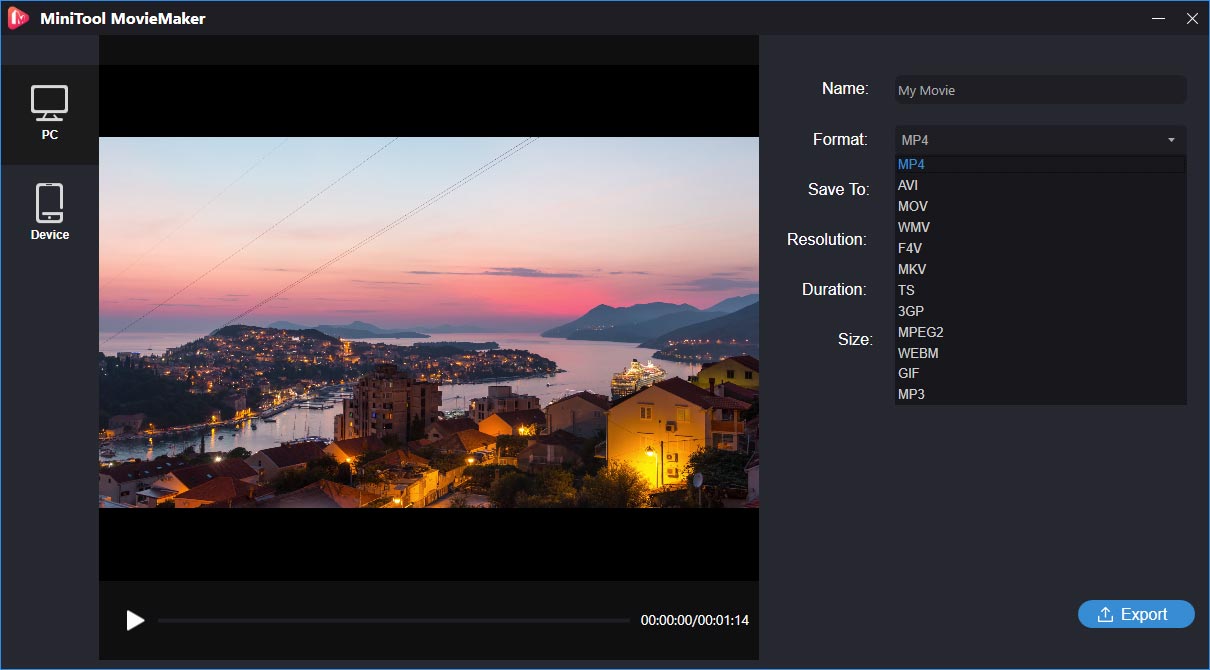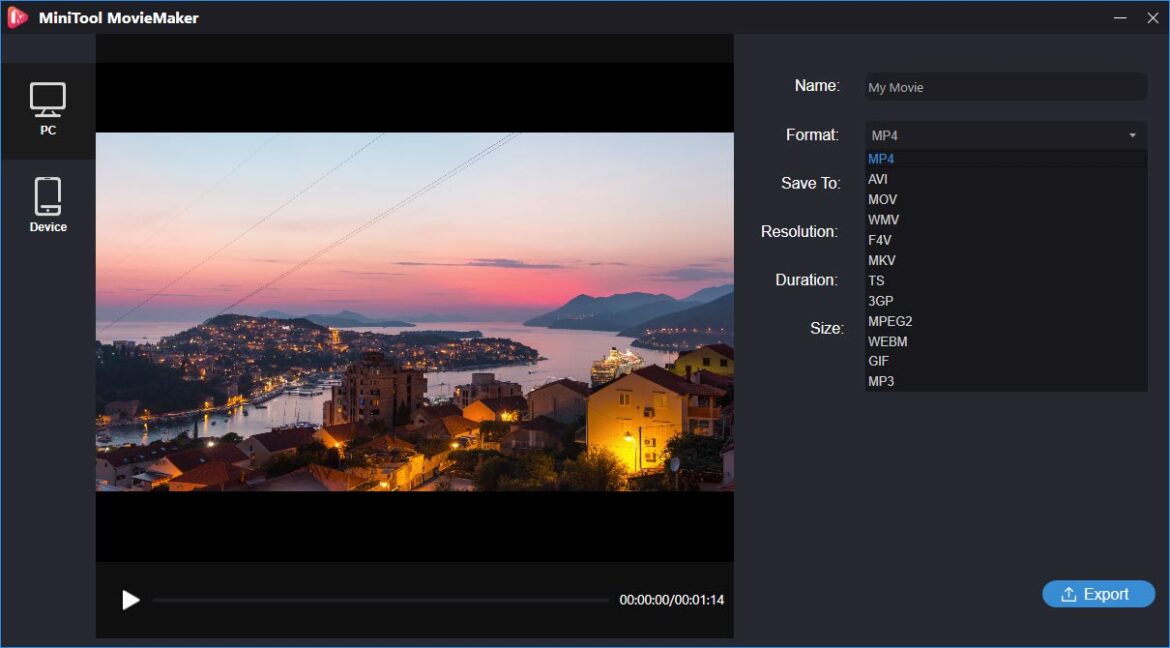 Is MiniTool MovieMaker safe?
This amazing video editing software is developed by MiniTool® Software Ltd. The company has great credibility and the software they offer is totally safe. It is guaranteed that this movie maker is 100% virus-free and spyware-free. Therefore, you can use this amazing free video editor without any doubt.
Pros and Cons of MiniTool MovieMaker
As you have read earlier about the stunning and terrific features of this video making software. However, here are its pros and cons you will need to know.
Pros
Totally free of cost video maker
Easy to install and use
A perfect video editor for beginners
Versatile and has variety of options available in effects, filters, and transitions
Cons
Some glitches are there while you edit videos especially when you re-arrange the user interface
It is not good for skilled and professional video editors
Conclusion
MiniTool MovieMaker is a great and totally free video editor with a lot of amazing and enhanced features. This software offers you everything that can be required for processing a video. Either you want to trim your videos, add music, convert your images into it a slideshow, or add subtitle, this software is for you. Stay tuned with us to know more about such software.
---