What is HandBrake Video Converter? Well, we are living in an era of video content. Almost every day or I would say every hour we come across videos. You may be a YouTuber, a video editor, or working in any capacity. So, you may need to convert video files in your desired format then what you do? Don't think more, just download HandBrake Video Converter and enjoy the fastest and reliable video converting into any format. While its many useful features and no cost make it an easy choice for video editors. Let's have a detailed look into it.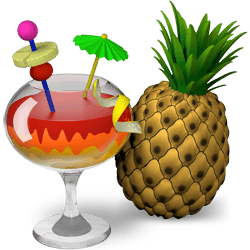 Overview of HandBrake Video Converter
Well, Handbrake is an open-source is a tool that is used to convert formats to modern codecs. This transcoder for digital videos allows you to convert videos from any format. Initially, HandBrake Video Converter was developed by Eric Petit in 2003 to process DVD i.e ripping a film from DVD to data storage. However, after that, it has gone through many changes and its recent stable release was made on the 13th of June 2020. So, if you have to deal with videos then this software for you that is intended to both rip and convert video files to work on a number of supported devices.
Features of HandBrake
As I have mentioned earlier that HandBrake can convert videos from any format. However, some other key features are the following.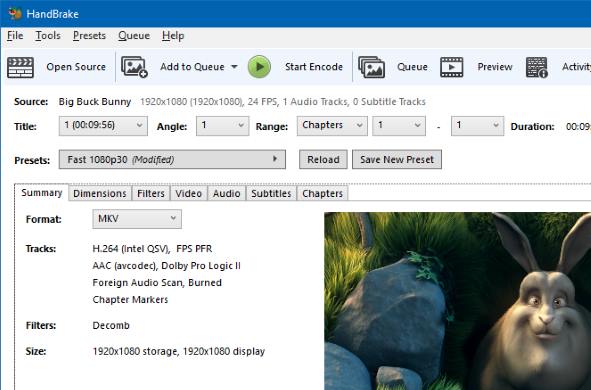 Hardware Presets

: This video converter is very easy to use. You just need to choose an optimized profile for your particular device and it will start working. Also, you can go with the universal profile for standard or high-quality conversions. In other words, we can say it is very easy, simple, and fast. HandBrake supports Intel Quick Sync since its version 0.10.0 was released. Later in December 2018, support was also added in 1.2.0.

Common Input Sources

: HandBrake video converter enables you to process the most common multimedia files. It also includes DVD or Blue Ray sources as well that have no any kind of copy protection.

Diversified outputs

: HandBrake fetches you the multiple version of different files. The following are the video and audio encoders according to HandBrake's official site.

File Containers

: .MP4(.M4V), and .MKV

Video Encoders

: H.265 (x265 & QuickSync), H.264(x264 & QuickSync), H.265 MPEG-4 & MPEG-2, VP8, VP9 & Theora

Audio Encoders

: AAC / HE-AAC, MP3, Flac, AC3, or Vorbis

Audio Pass-thru

: AC-3, E-AC3, DTS, DTS-HD, TrueHD, AAC & MP3 tracks

Supports Batch Encoding:

HandBrake Video Converter also supports batch encoding while using GUI (Graphical User interface), and CLI (Command Line Interface). Third-party scripts and UIs like HandBrake Batch encoder, Batch HandBrake, and VideoScripts are available for such purpose.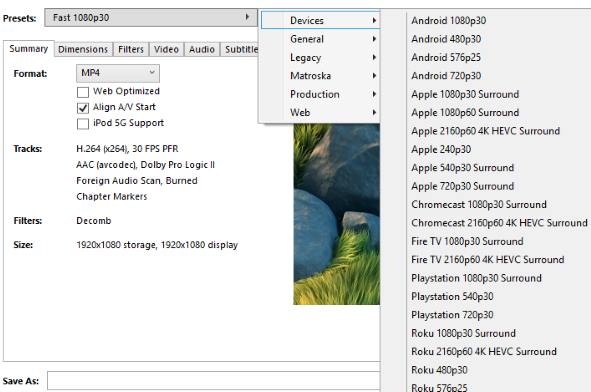 How to download and install HandBrake?
HandBrake supports all popular operating systems i. e Windows, mac, and Linux. So, to download and install this video converter, follow the following steps.
Go to the download page of HandBrake official website
Download the file as per your operating system (Windows, Mac, Linux)
Launch the installer you have downloaded, it will install automatically
Once the installation is done, you will receive a notification about the successful installation
Launch the icon of HandBrake to use it
Conclusion
HandBrake Video Converter almost supports all format conversions and is compatible with Windows, Mac, and Linux. It allows customizing the conversions in your desired modern codecs. while the best part is, it is free and open source. So, download and install to increase your productivity. Stay tuned with us for more such updates, and free software.