Productivity means doing things in the best possible manner. Today we live in a technology-driven lifestyle. Therefore, we take help from our smart devices to be more productive. This idea made TOP10.DIGITAL think about how can we make our readers more productive. So today we reveal our Top 10 iOS Productivity Apps in 2020.
Productivity is not a habit but a lifestyle. These best iOS apps guarantee to make you ten times more productive, and the best thing is that they are free.
Bitwarden
-Bitwarden is a password manager app keeping all your passwords for your social media accounts, online banking, and other important documents safe. While it is on top of the list of top 10 ios productivity apps.
-The best part is that it is a totally free app though you may need to pay $10 for the premium access.
-If you have Bitwarden installed in any other device you can sync all the saved passwords into one device.
-It also the feature of autofill which helps to quickly fill out all the details while logging into some site.
-If you need it can generate strong passwords for you too.
If you are interested you can get the app for your iOS device from here.
---
Grammarly Keyboard
-Grammarly keyboard is a free iOS app that lets you freely work and in case you make some grammatical errors, it makes sure to correct them. Really handy when you are in between a formal communication.
-It has real-time grammar checker that enhances your vocabulary and has a good auto-correct feature that comes quite handy.
-It is compatible with almost every application and has a cool feature of emoji prediction.
-Comes with a document editor for long-form writing but it is only available for the iPad users.
If you are interested in installing Grammarly keyboard for your iOS device you can click here.
---
Microsoft SwiftKey Keyboard
-Microsoft Swiftkey Keyboard is also one of the top 10 ios productivity apps. It is a machine learning-based keyboard that learns your typing style with time and helps you to type faster.
-It also accommodates the feature of swipe typing, Swiftkey had it way before it was introduced in iOS 13.
-As it learns to your typing style, its predictions are correct making your typing even faster.
-You can customize according to your taste with loads of themes and customization options.
If you are willing to try out this keyboard, you can get it through here.
---
OneDrive
-Microsoft OneDrive is another prominent name in the top 10 ios productivity apps. It keeps your data backed up so in case you restore your phone or accidentally format it or lose your phone you can retrieve the data back easily.
-With the help of Microsoft OneDrive, you can easily share documents and files with your colleagues and family.
-Also while sharing the files you can set a password on the link so that no one else except the person the file is intended to can access it.
-OneDrive also has a feature that lets you scan a document with the help of your camera.
-Has a good search feature that lets you search through your important photos and videos by what is in them for e.g. Dog, Beach, Snow, etc.
To start backing up your data you can directly install it from here.
---
Fing – Network Scanner
-Fing – Network Scanner is an app that lets you protect your Wi-Fi while also providing useful information regarding your connection.
-It helps you to scan and identify all the devices that are connected to your network. In case you come across any unidentified device you can easily remove it through this app.
-If you come across youtube videos buffering you can simply test your network speed and know if you are getting the speed for what you are paying.
-It also helps you to check if there is a network outage in your area, ISP rating and reviews.
You can install the app directly from here.
---
Xe Currency & Money Transfer
-Xe Currency and Money Transfer also include in the top 10 ios productivity apps. It is a great app for a student who is studying abroad as money transfer is quite easy with it and the rates that are provided are one of the best rates in the market.
-In case you encounter an issue while transferring, you can take help from their expert customer care support.
-It also gets handy when you are a frequent flyer and have to go abroad quite frequently as you can monitor up to 10 currencies with this app.
-You can also set alerts and it notifies you if there is a significant change in the value of your desired currency.
-Great app for traders too as it provides news and daily market analysis.
If you are interested in installing this app you can try it out from here.
---
DuckDuckGo Privacy Browser
-DuckDuckGo browser is a firm believer in protecting your data online.
-You can easily delete all your browsing history and taps with a single tap.
-It also provides a feature to escape online tracking and automatically block third-party app trackers.
-It provides you with an additional security layer by forcing sites to use HTTPS encrypted connection when available.
-Helps you to secure your browser with Touch ID and Face ID.
To keep your internet data secured directly download the app from here.
---
Notion – Notes, Project, Docs
-The notion is a single app for your daily work needs.
-You can easily store your notes, tasks, wikis, and databases with this app.
-Easily use drag and drop to arrange any content. Great for prioritizing lists and to-dos.
-It supports images, bookmarks, code snippets, and 20+ block types.
-Get going by syncing data from your other devices in your iOS with this app.
If you are interested in installing this app click here.
---
FAST Speed Test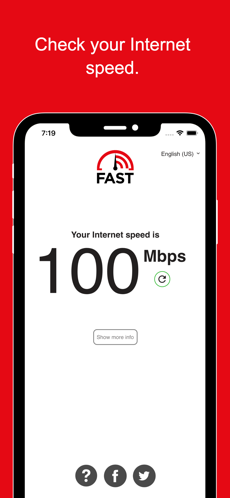 -FAST Speed Test app is a Netflix initiative to test your internet speeds at any time of the day.
-Easy and simple user interface that makes it friendly for the non-techy people too.
-The best part is that it totally ad-free so no more getting spammed with ads while checking your internet speed.
Test your speed now by installing this app from here.
---
Shortcuts
-Shortcuts is a pre-installed app on all iOS devices. It is also a prominent app among top 10 ios productivity apps.
-It makes your workflow faster as it has more than 300 built-in actions and supports many apps.
-It is directly integrated with Siri and can be directly launched by the help of her.
-Shortcuts opens up incredible possibilities to automate things you do regularly on your iOS device.
In case you have uninstalled it and would like to download again, directly click here.
---
Conclusion-
Productivity is essential and necessary for a good life. These cool iOS apps may be an excellent app for people who live a busy life. Therefore, these applications will help you organize your life and work. Besides, these applications also allow us to stay focused on our goals each day, making us more productive. That's why TOP10.DIGITAL has compiled a list of Top 10 iOS productivity apps.