Although, everyone needs Microsoft office software suite for tasks every day. Microsoft Office is probably the most famous. But there are also plenty of free alternatives that have nearly all the features and functions of Word, Excel, PowerPoint. LibreOffice is one of that software that can be used as an alternative, and it has a reputation of the best free office suite around.

PRO's
Full suite for Microsoft Office
Compatible with all formats of Microsoft Office
Free – No Advertisements
No Micro Transactions Needed
CON's
You need to download extra templates manually

LibreOffice is a product of the OpenOffice project. And developed by a large team of enthusiastic coders who provide regular updates and new features to ensure it keeps pace with the premium Microsoft office software.
LibreOffice contains six program components that provide everything you need from an office suite:
Writer (word processor) – It is a simple tool that is used to create indexes, content and more. The user interface looks similar to Microsoft Word.
Calc (spreadsheet) – Calc Spreadsheet tool can be used by everyone. It has a simple interface which can be used by new users too. The users can also download templates to enhance the feature of LibreOffice Calc.
Impress (presentation) – Impress is a tool to create presentations. One can easily edit slides and order the slides. There is a collection of templates to download from.
Draw (vector graphics) – Draw is a program that helps you to create graphical documents and diagrams. You can create technical drawings, sketches, posters and flowcharts by using this. It also helps to manipulate graphics, crop and use them in 3D.
Math (mathematical formula) – Math is a formula editor that is used to create mathematical functions, integrals, exponents and other complex metrics.
Base (database) – It is a featured database front end. Every kind of user can use this database.
You can save and use a variety of file formats, including Microsoft files like (DOC, DOCX, PPT, PPTX, and more). Which is ideal if you're collaborating with Microsoft Office users. Or if you've previously used Microsoft suite but had decided to try LibreOffice.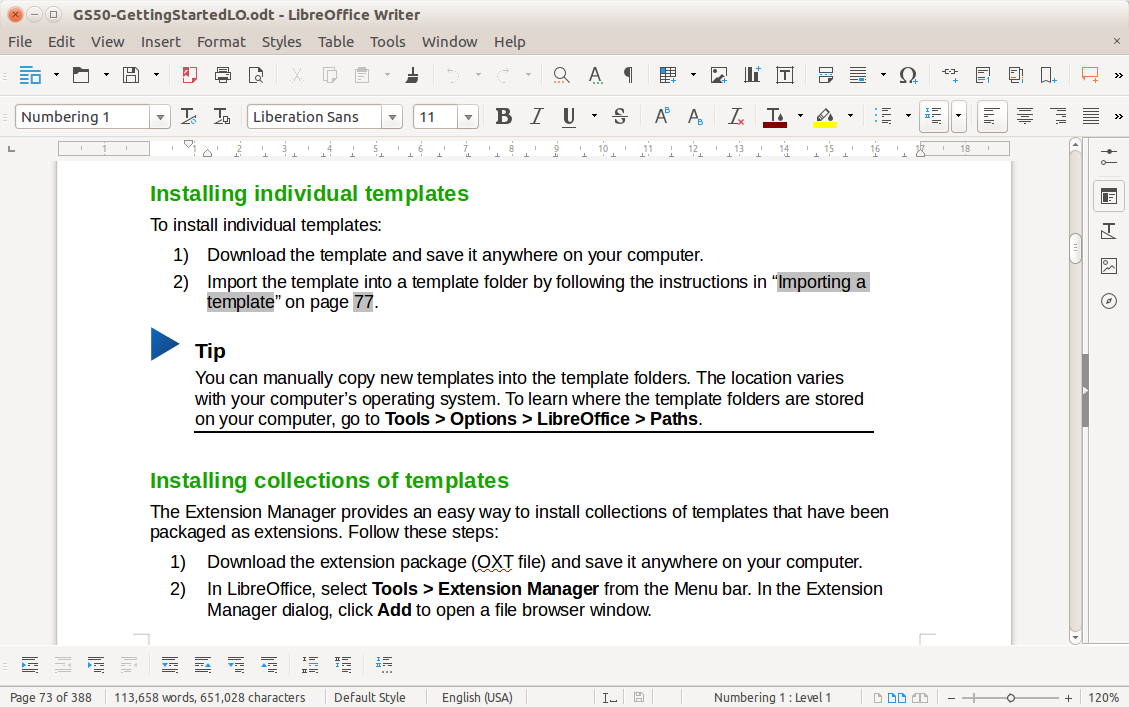 User Experience
LibreOffice offers a wide interface style to select from. The traditional system of icons and toolbars, and additionally NotebookBar (similar to tape used in Microsoft Office since 2007). Although, both have their advantages. NotebookBar will make the switch from Microsoft Office easier. While the old-school layout means that everything is available at a single place. And you can navigate easily using a keyboard instead of a mouse if you want to.
Although, there is a little difference between the Microsoft productivity toolkit and LibreOffice. The Open-source Suite lacks a built-in cloud storage option. But it can be easily fixed by installing the Dropbox desktop software, which gives you quick access to your account as if it was a folder on your PC.
LibreOffice templates options might seem a bit limited compared to Microsoft Suite. But this is easily remedied with a large collection of templates that can be downloaded through the online repository project. There are many plugins available that help to add features such as grammar tools, additional language packs, increased accessibility options (such as export to braille embossers), and plug-ins for other programs such as FreeMind mind-mapping tool.