It is a moment to cherish for the gamers as AMD Zen 3 Ryzen 5000 series processors have been revealed officially by AMD. During a virtual event on October 8, 2020, the CEO Dr, Su, and Co revealed all about the new processor. Also, they have called it one of the fastest gaming CPUs in the world that will offer the best PC gaming performance. Let's explore further what this processor is.
About AMD Zen 3 Ryzen 5000 Processor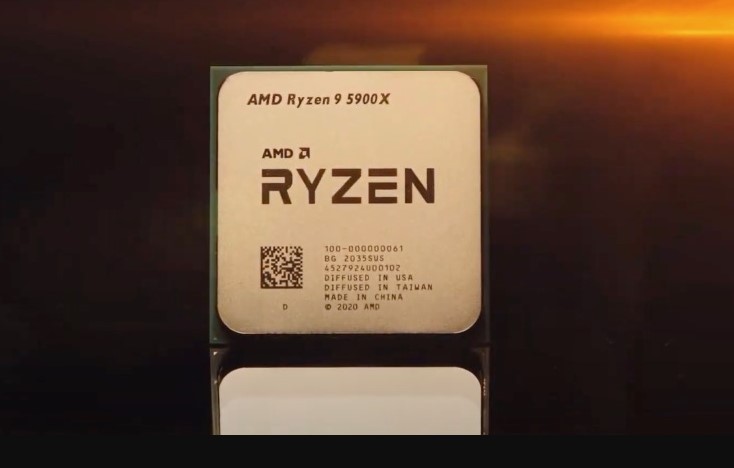 Ryzen 5000 series processors are the next-gen processors of AMD powered by Zen 3 architecture. These processors will boost the clock speed to the maximum and increase the IPC (instructions per clock) to 19 percent. Moreover, the 8-core core complex will reduce core to core latency that will increase the gaming performance. The AMD CEO Dr. Su said.
Our work with Ryzen is never done. it's all about Zen 3. Zen 3 increases our lead in overall performance, it increases our lead in power efficiency, and also now it delivers the best single-threaded performance and gaming performance as well. We have made massive changes in the core architecture.
The new 5000 series processors are 26 percent more faster than the previous 3000 series.
Models of Zen 3 Ryzen 5000
During the virtual event, four models of AMD Zen 3 Ryzen 5000 series processors were announced. These four models are the following.
The Ryzen 5 5600X
The Rysen 7 5800X
The Ryzen 9 5900X
The Ryzen 9 5950X
These 4 processors have different prices as well as specs and features. However, Ryzen 9 5950X is said to be the new flagship CPU and the fastest among all.
The Specs and features of 5000 Series CPU
The AMD Zen 3 Ryzen 5000 series CPUs have different specs like cores and threads as well as different performance. These boost the speed from 4.6GHz to 4.9GHz. AMD Ryzen 5950X can largely outperform the Intel Core-i9-10900K on fetching the latest games at 1080p. However, Intel Chip has more clock speed that can boost up to 5.3GHz. There is also a reservation that AMD does not offer improved power efficiency and a higher core and thread count. Further, the following table can show a better picture of the specifications.
| | | | | |
| --- | --- | --- | --- | --- |
| Model | Cores / Threads | TDP (Watts) | Base / Boost Frequency | Cache Memory |
| Ryzen 5 5600X | 6 cores / 12 Threads | 65 Watt | Boosts 3.7 GHz up to 4.6GHz | 35 MB |
| Ryzen 7 5800X | 8 cores / 16 Threads | 105 Watt | Boosts 3.8 GHz up to 4.7GHz | 36 MB |
| Ryzen 9 5900X | 12 cores / 24 Threads | 105 Watt | Boosts 3.7 GHz up to 4.8GHz | 70 MB |
| Ryzen 9 5950X | 16 cores / 32 Threads | 105 Watt | Boosts 3.4 GHz up to 4.9GHz | 72 MB |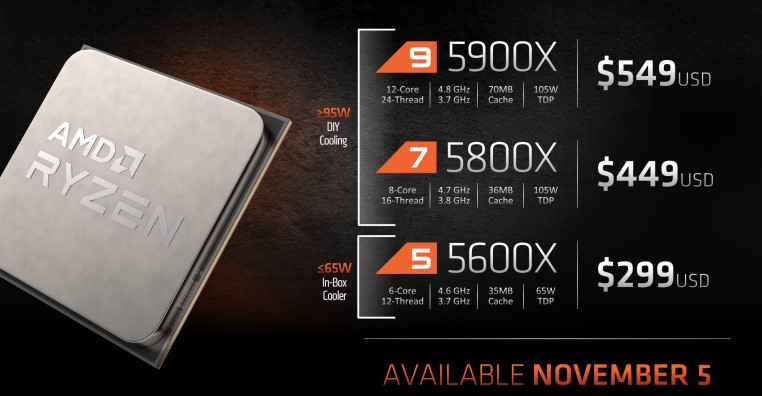 What is the price and date of availability?
Well, AMD Zen 3 Ryzen 5000 series processors will be available on the 5th of November 2020 for the consumers. While the price of the processors starts from $299 as it is of Ryzen 5 5600X. Similarly, the price of Ryzen 7 5800X is $449, Ryzen 9 5900X is $549, and Ryzen 9 5950X is $799. So, if you want to get these processors then book it on the official site of AMD.
Conclusion
The AMD has announced that its next-gen Ryzen 5000 series processors will be available on November 5, 2020. Moreover, AMD Zen 3 Ryzen 5000 processors can give you a whole new gaming experience as these boost speed up to 4.9GHz. For more details, updates, and news, stay tuned with us.
---