If we declare September 2020, "the month of technology" then it would not be wrong. Because this month has seen so many additions and releases in the tech and digital world. Similarly, Google Pixel 5 event was also held on Sep 30, 2020, with a lot of exciting announcements. And one major release of those is Google TV Chromecast with a remote controller. Here we are going to write down all details about it.
Google TV Chromecast


Google introduced a streaming stick in 2013 and it proved a hit product. However, it needed to be connected with a smartphone or PC to play content. Now, Google has evolved it and released with new features and operating system. It is now like Amazon Fire TV and Roku. The 2020 edition has an all-new interface and its own operating system called Google TV. Moreover, it is rich with content from top sites like Netflix, YouTube, Prime Video, Disney Plus, and HBO Max. And It supports 4K HDR at up to 60fps, Dolby Atmos, Dolby Digital Plus, Dolby Vision, DTSX, HDR10+, and h.265 streams. Shalini Govil-Pai, The General Manager of Google TV also said.
Now there is so much content to choose from, whether it's movies, shows, live TV, YouTube. And it's across hundreds of content providers. It can actually take longer to choose something to watch than to watch the content itself. There is so much wonderful content out there, and we want to help you find it easily.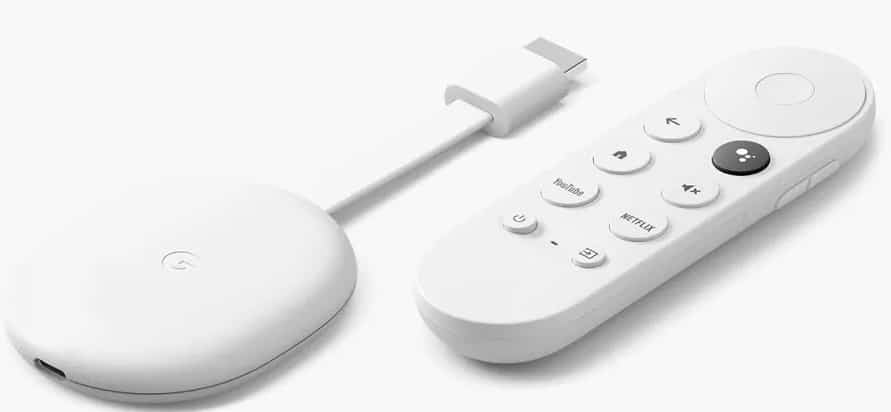 Google TV Features and advantages
Well, Google TV Chromecast has now its own operating system Google TV as mentioned earlier. However, the question arises in mind what will be the advantages of Google TV. The simple and short answer is you get a wide variety of content. This operating system will fetch you many apps you can choose to be played. However, Apple TV plus is not yet available on it. The other list includes Hulu, Disney Plus, Vudu, Plex, as well as Netflix and YouTube. Further, Google TV eliminates the gap between streaming platforms while putting their movies and shows side by side.
The Google TV Chromecast has a different split section screen view. So, you will be able to switch easily to Movies, shows, apps, and libraries with the navigation bar. Also, you can intimate Google TV about the paid apps you have got and it will show you on priority.
Chromecast Remote

As mentioned earlier, the previous version used to be connected with a smartphone or PC to play content. However, the 2020 version has no such need. But a remote has now been provided with the new Google TV Chromecast. The best thing in this remote is the shortcut buttons for Netflix and YouTube. Just press these buttons and you will directly land on the subject sites. There are also buttons to control volume as well as power off the TV. And for switching between TV and Google TV Chromecast, the input button is there.
Voice Search With Remote
The remote for Google TV Chromecast has a button named Google Assistance. When you press this button, you can now use the voice search option. If you speak just a generic name of a show or movie, there will be the results from all streaming platforms. However, if you search specifically like "Watch Game of Thrones on Netflix", it will directly play the show from Netflix.
The price of Google TV Chromecast
Well, the price of this amazing new Chromecast is $50 which is affordable. Google has cut down the price of the new version as the cost of Chromecast Ultra used to be $70 and that also never used to have a remote control. So, its cheaper price, as well as multi-features, have made the rival of Amazon Fire TV and Roku. It is also worth mentioning that this Chromecast was available in the USA right after its announcement and soon it was out of stock. On Oct 15, it will be available in Australia, Canada, France, Germany, Ireland, Italy, Spain, and the UK. So, the people of these countries can preorder the device now.
Conclusion
Google has announced the new Google TV Chromecast during its Pixel 5 event. The new Chromecast has now a lot of new features as well as a remote control. Now with this, you can enjoy a wide range of content from all popular streaming sites. Stay tuned with us for the new and latest updates.