Who are the top four tech giants? Surely, the title of this topic itself is answering this question. Apple, Google, Facebook, and Amazon are leading the world in their respective fields. Further, they are significant contributors to the economy of the United States of America. However, political figures of Democrats and Republicans of the USA Congress had an online hearing of the CEOs of these four companies. They questioned their power in the market as well. TOP10.DIGITAL brings here all the important details of Congress hearing CEOs.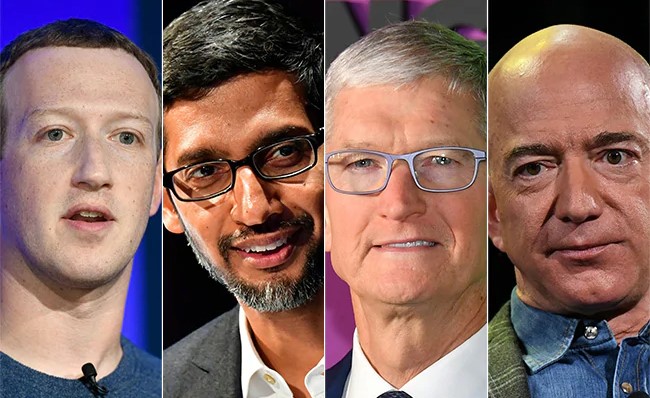 Apple's CEO hearing
Apple is one of the biggest and famous companies to manufacture electronic gadgets. While iPhones and Mac Books are the most demanded in the world by consumers. The company has a net worth of 1 trillion dollars as of 2020.
Well, Apple's chief Tim Cook was the man who received fewer questions in the Congress hearing CEOs. But he also faced the charges of monopoly in the market and using unfair means to grow their own business. Cook received a question from Neguse that Apple is stealing the data and is using it for their own business benefits. But Cook denied this charge and said that we would never steal somebody's data or IP. Similarly, Congress accused Apple of getting a 30 percent commission from in-app sales. However, Cook testified that since 2008, we have not changed the fee and it is the same.
Google's CEO hearing
Google is the biggest search engine in the world. There are 6.9 billion searches on Google every day. So, you can well imagine its popularity as well as its importance. Google's CEO Sundar Pichai told that we are working every day to help people to get the best search results of their queries.
However, Cicilline, a part of the hearing accused Google that it is stealing the data of the users and using it for their own benefits. He also accused that when Google shows results it displays at the top its own business. Further, Cicilline said that Google also monitors web traffic to identify competitive threats. However, Pichai denied it and he said.
Today, we support 1.4 million small businesses supporting over $385 billion in their core economic activity. We see many businesses thrive, particularly even during the pandemic.
So, Pichai said that we are promoting and supporting businesses and not curtailing.
Further, Congressman accused that Google has grown with unfair means and how it can grab so much revenue. Some lawmakers specifically accused Google of weaponizing its popular search engine to put rivals at a disadvantage. But Pichai testified with his explanations. Though he explained well yet the Congressmen were not satisfied.
Facebook CEO hearing
Facebook is the biggest ever social media site in the world since 2008. It has over 2.6 billion monthly active users. However, lawmakers accused Facebook CEO Mark Zuckerberg of monopoly in the market. They said that Facebook purchased Instagram in its early years to curb the competition. Similarly, they accused him that Facebook is stealing data and then selling it to companies.
But Mark Zuckerberg denied and he said that it was not the case to buy Instagram. Still, there is competition in the market and we have competitors like TikTok.
Further, Facebook CEO answers a question regarding the boycott of advertisers we care about advertisers, but we can't let them dictate the company's content policy.

Amazon CEO hearing
Amazon is an e-commerce giant and has a net worth $1.14 trillion. While it has captured the whole word lawmakers have accused it of tapping data to boost its own sales. However, Jeff Bezos could not give a satisfactory answer and he said.
What I can tell you is we have a policy against using seller-specific data to aid our private label business. But I can't guarantee you that policy has never been violated.
Moreover, Congressman also accused Amazon of delaying the shipment of nonessential items in March. Bezos said that due to the pandemic we had to make decisions very quickly. He also assured that profit was not behind taking these decisions.
What Congress is going to do in the future?
Congress arranged this hearing to know about the policies and business growth of four tech giants. They are against the monopoly and purchasing potential competitors. They want to regulate these companies to play fair and do fair business. Cicilline said.
Their control of the marketplace allows these giants to do whatever it takes to crush independent businesses and expand their own power
Therefore, he stated that these companies are violating antitrust laws. In the United States, the Department of Justice may file an antitrust lawsuit against Google as soon as this summer.
TOP10.DIGITAL brings you the latest news of the tech and digital world. Stay tuned to know about the latest updates.